Martin and Jessica's Village By The Sea Wedding | Wells, Maine, Wedding Photographer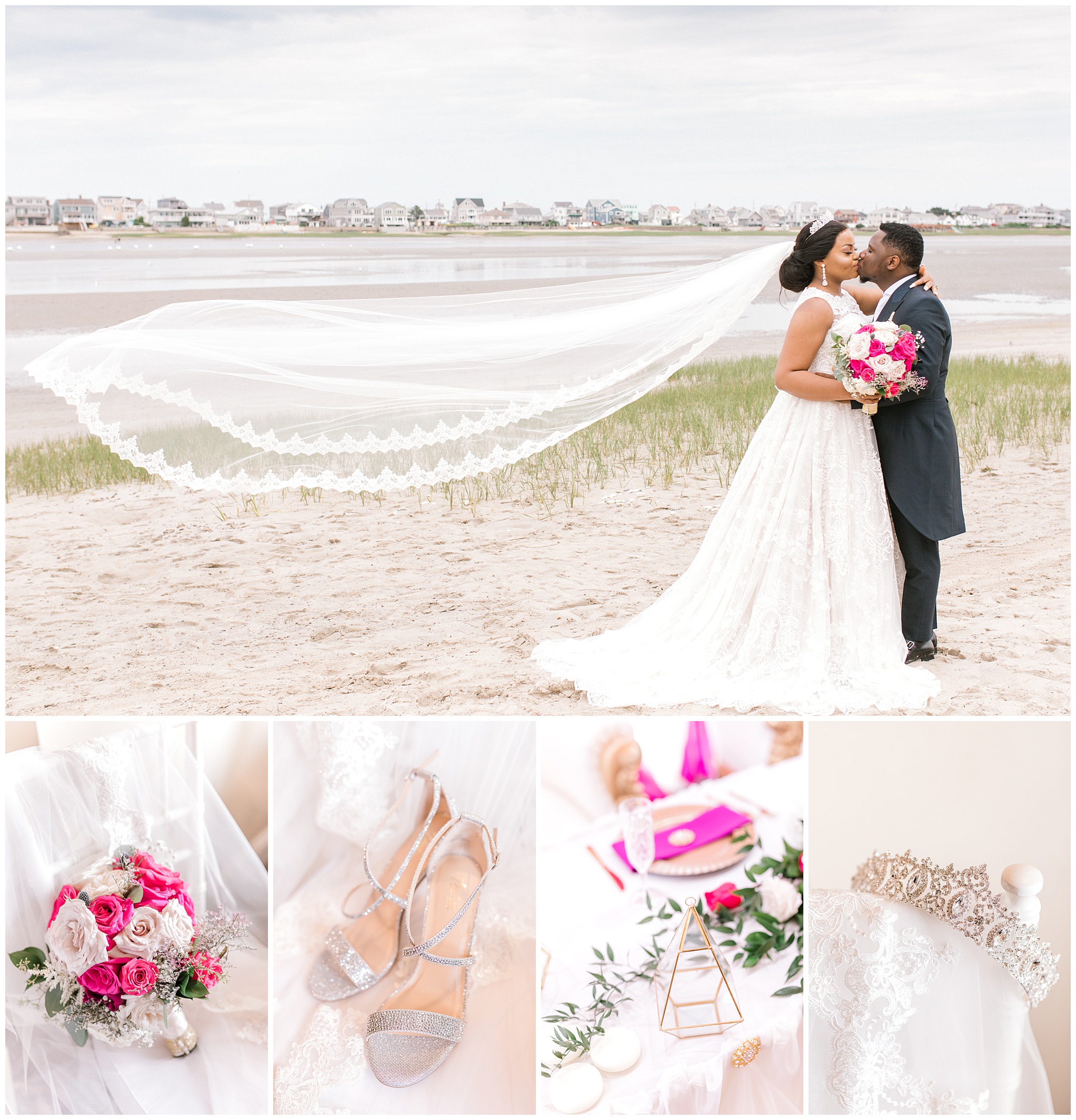 If you've never been to a Congolese wedding in the States before, you're missing out! Just wait until you see the magnificence of this Congolese/American wedding, and read more about all the fun traditions that we experienced for the first time that day!
Martin and Jessica are both from the Congo, and happened to both be at a mutual friend's house in Portland, Maine, when they met 6 years ago. They hit off right away, and last year started planning the wedding of their dreams! They wanted to incorporate their traditional Congo heritage, along with a modern American feel. Jessica's favorite color is fuschia, so she knew she wanted to incorporate it throughout the wedding day, which gave everything a beautiful POP of color!
There were so many surprises in store for me that day, things that I wasn't used to from the perspective of a "typical" American wedding. One of the first things I saw when coming in the venue was the larger-than-life poster of a picture of Martin and Jessica that I took during their engagement session last month. I don't think I've ever seen my work displayed that large before and it definitely made me smile! Jessica and Martin chose to do a first look before the ceremony, down at the Wells Harbor Park. Jessica started tearing up as she was walking up to Martin, and when Martin turned around to see her for the first time, she cried even more! Martin had the BIGGEST smile, and was so excited to see his gorgeous bride! It was very warm and humid out, with no breeze (which is odd when you're at the beach!) and a lot of bugs, but these two did amazing, and were only focused on each other the entire time. During the ceremony, what I loved the most was that the bridal party and guests often started cheering and clapping when they were excited, like when Jessica walked down the aisle! It gave a very happy and cheerful vibe to the day, which I loved! One thing I wasn't expecting was the amount of cell photos, cameras, and video cameras that surrounded the couple during the day, especially during the ceremony! Friends and family were so excited to capture the wedding in every angle, which I've since found out is a cultural norm for the Congo. They were also live-streaming the day to Jessica and Martin's friends and family back in Congo who couldn't make it to the wedding. After the ceremony, the couple asked me to take photos with them and each of their guests, and because they had scheduled an extra long social hour, we had plenty of time to make that happen! One of their friends jumped on the mike and started narrating (in song!) what was going on during the social hour – I laughed as I heard him sing, "Now it's time to get pictures taken …"!
The reception was where the real fun started! Jessica went upstairs to the bridal suite to change – not only her dress, but she also changed her hair, makeup, shoes, and jewelry! For the first time in my wedding experience, the groom changed outfits as well! Martin and Jessica entered the reception with a completely different look, and with incredible dance moves! I loved watching the bridal party dancing into the reception, each dance portraying a story of sorts. Before the toasts, they had the bride and groom each stand, while the emcee talked about their background, upbringing, family, etc. Now, I forgot to mention that most of this wedding day was in French, apart from the ceremony! I know a little bit of French, so I was able to follow bits and pieces here and there, but it definitely kept us on our toes during the reception, since we were never quite sure what was happening next! After the cake cutting, everyone toasted to health and happiness and other things that I didn't know the French words for, and I loved seeing the happiness on Jessica and Martin's faces as their friends and family surrounded them with love. Before we left for the evening, they played a song, and all of the guests stood in a line while coming up to dance and greet the bride and groom, and present them with a card or gift. Throughout the evening, there were dollar bills being thrown around the dance floor in excitement as well – what awesome traditions!
Although this is my first Congolese wedding that I've attended, I hope it isn't the last! Martin and Jessica, thank you for trusting me to photograph your wedding! I hope you have an amazing life together!
Florals: Angels of Love Event Design, Maine
Cakes and Desserts: Gale Fort
Hair and Makeup: Amida Masumbuku
Bridal Gowns: David's Bridal