Amanda and Josh's Portland City Hall Day After Wedding Session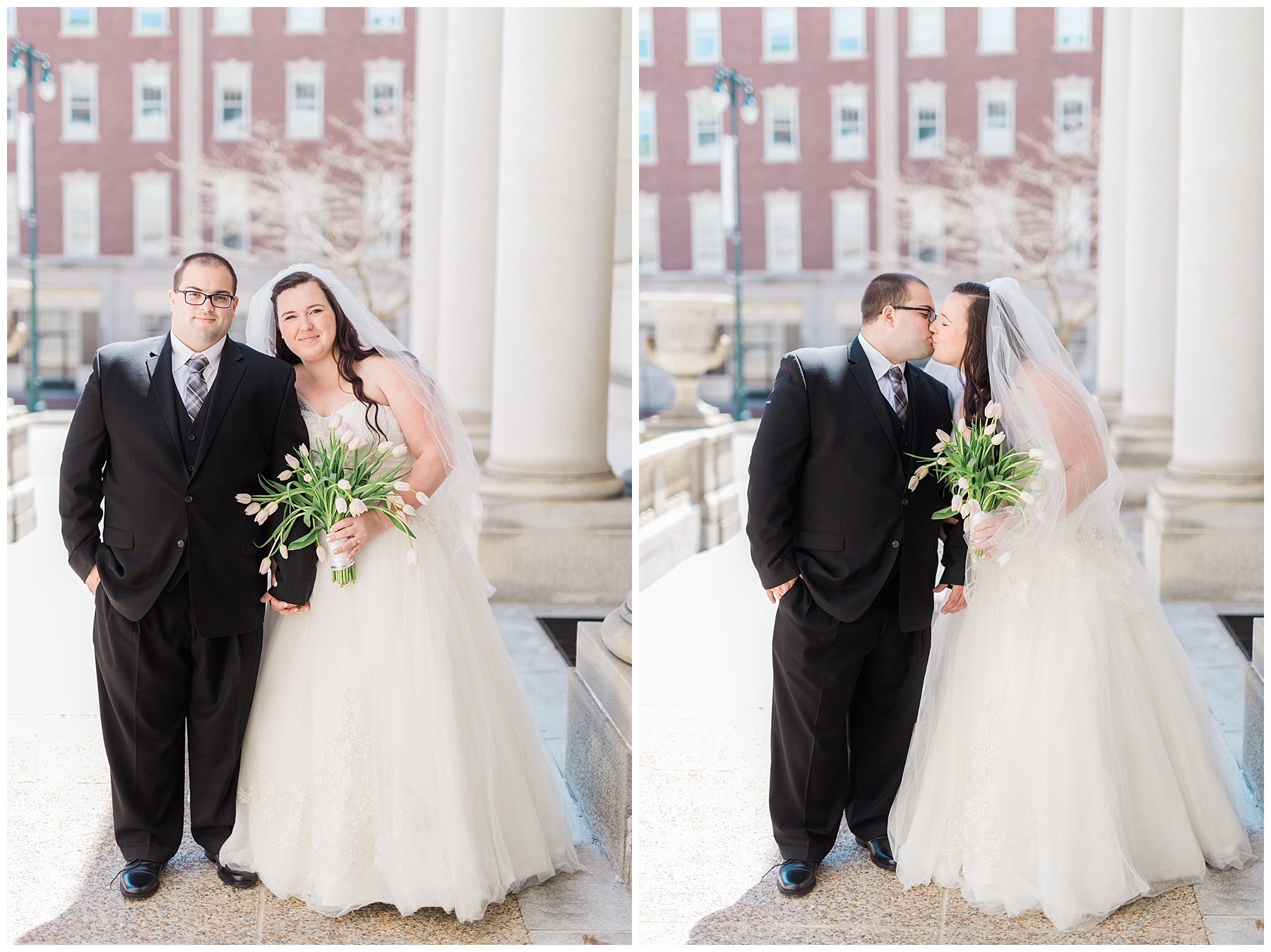 With Spring FINALLY arriving here in Maine, I was itching to get my camera out and take some wedding photos! I still have another month or so until my first booked wedding this year, so I enlisted my sister and her husband to get dressed up for me!
My little sister, Amanda, is 8 years younger than I am. We have a big family – a total of 8 kids (plus 2 step-siblings!). I am #3 in the lineup, and Amanda is #5. We bickered and argued a lot growing up, but once we were both out of the house, we realized over time how much we have in common, and now I'm happy to call her one of my closest friends. Amanda and Josh were married 3 years ago in Kennebunkport, Maine. They had a fairytale wedding (literally, the theme was Snow White!) in the Fall, but Amanda had mentioned that she had always dreamed about what it would be like to have a Spring wedding and have a tulip bouquet. For this Spring wedding shoot, I knew I wanted someone with a wedding dress that was soft and romantic, to go along with the softness of the tulips and beautiful white trees lining the sidewalk in downtown Portland. So we drove down to Portland on a Sunday morning. Due to a full day of meetings, we only had about 40 minutes total to walk around and take these pictures, but that was all we needed! I picked up these light pink mini tulips at Trader Joe's on the way, and wrapped them with some inexpensive ribbon I had.
I was very excited to do some pictures at Portland City Hall. I know that might sound odd, but the tall granite pillars and with light reflecting all around, it was a perfect picture opportunity! It was very sunny when we arrived, so we only had one tiny corner of shade to use, but we made it work! Just goes to show you that beautiful wedding photos can be so simple and sweet! Thank you Amanda and Josh for letting me take these photos of you!