Corbin and Emmaline's Blueberry Cove Camp Wedding | Tenants Harbor, Maine, Wedding Photographer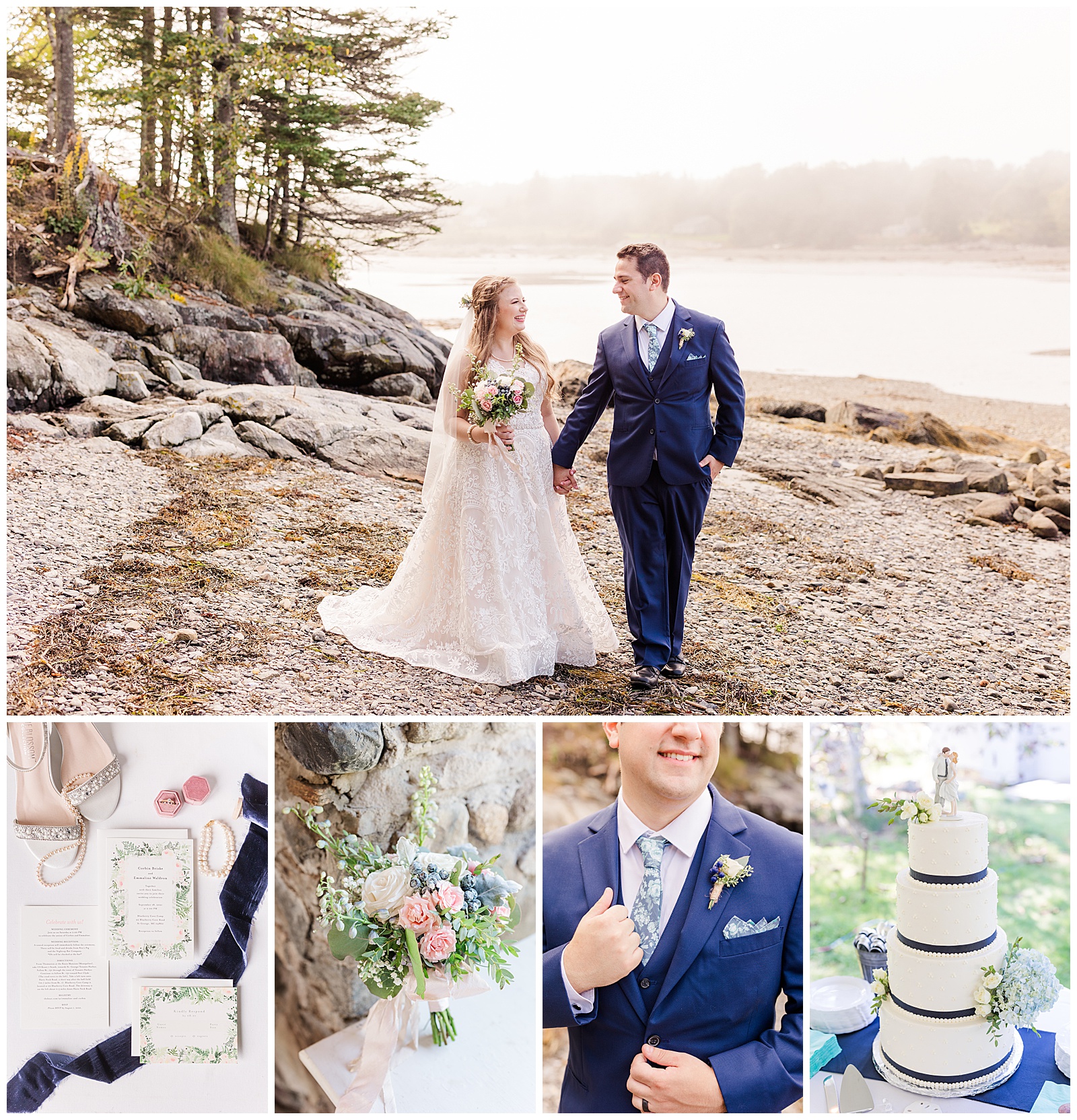 After patiently waiting an extra year due to Covid, Emma and Corbin finally got to have the wedding they dreamed of at a coastal Maine summer camp.
Emmaline and Corbin met 8 years ago in college. After meeting through a mutual group of friends, they went to the movies for their first date, and ended up staying awake all night talking. Blueberry Cove Summer camp serves as a 4H camp for children during the summer, but in the Fall, they open up their venue for events. Emma actually went to this camp growing up, and when looking for a venue, Emma and Corbin felt this was perfect for them!
I met up with Emma and her bridesmaids that morning at the salon, while they were getting the finishing touches done on their hair and makeup. We went a few minutes down the road to Emma's Mom's house, where Emma put her on dress. The guys got ready at a local Air BnB, and before we knew it, it was time for the ceremony! The sun was shining, and it was a fairly warm September day as Emma walked down the aisle to Corbin. The ceremony was beautiful and personal, and ended with guests throwing birdseed at the couple after they had their first kiss. The guests played lawn games, and enjoyed the open bar while I took the couple down to the beach for photos. I loved all the special details that these two included in their day, like the blueberries in the bride's bouquet, and the wildflower seeds the guests were given to take home. The rest of the evening was spent dancing the night away!
Thank you so much, Corbin and Emmaline, for trusting me to capture your special day! Congratulations Mr. and Mrs. Briske!
Venue: Blueberry Cove Camp, Tenants Harbor, Maine
Day of Coordinator: Kali McGeechan of Every Little Detail Wedding Planning, Brewer, Maine
Tent Rental: New England Tent & Awning, Brunswick, Maine
Hair and Makeup Artist: Tonya Carter of Salty Waves Salon, Rockland, Maine
Florals: Flowers by Hoboken, Rockland, Maine
Officiant: Lindsay Gannon of Officially Yours, Sabattus, Maine
Wedding Cake: Atlantic Baking Company, Rockland, Maine
Catering: Pete's Pig Catering & Barbeque, Waterville, Maine
Bar: Nightcap Bar Co., Augusta, Maine
DJ: Vance Lagrange of Dionne Entertainment, Maine
Photographer: Andrea Simmons Photography LLC, Gardiner, Maine
Second Photographer: Laura Stevens of Laura Stevens Photography, Winthrop, Maine