Jonah and Grace's Wedding at A Barn | Dayton, Maine, Wedding Photographer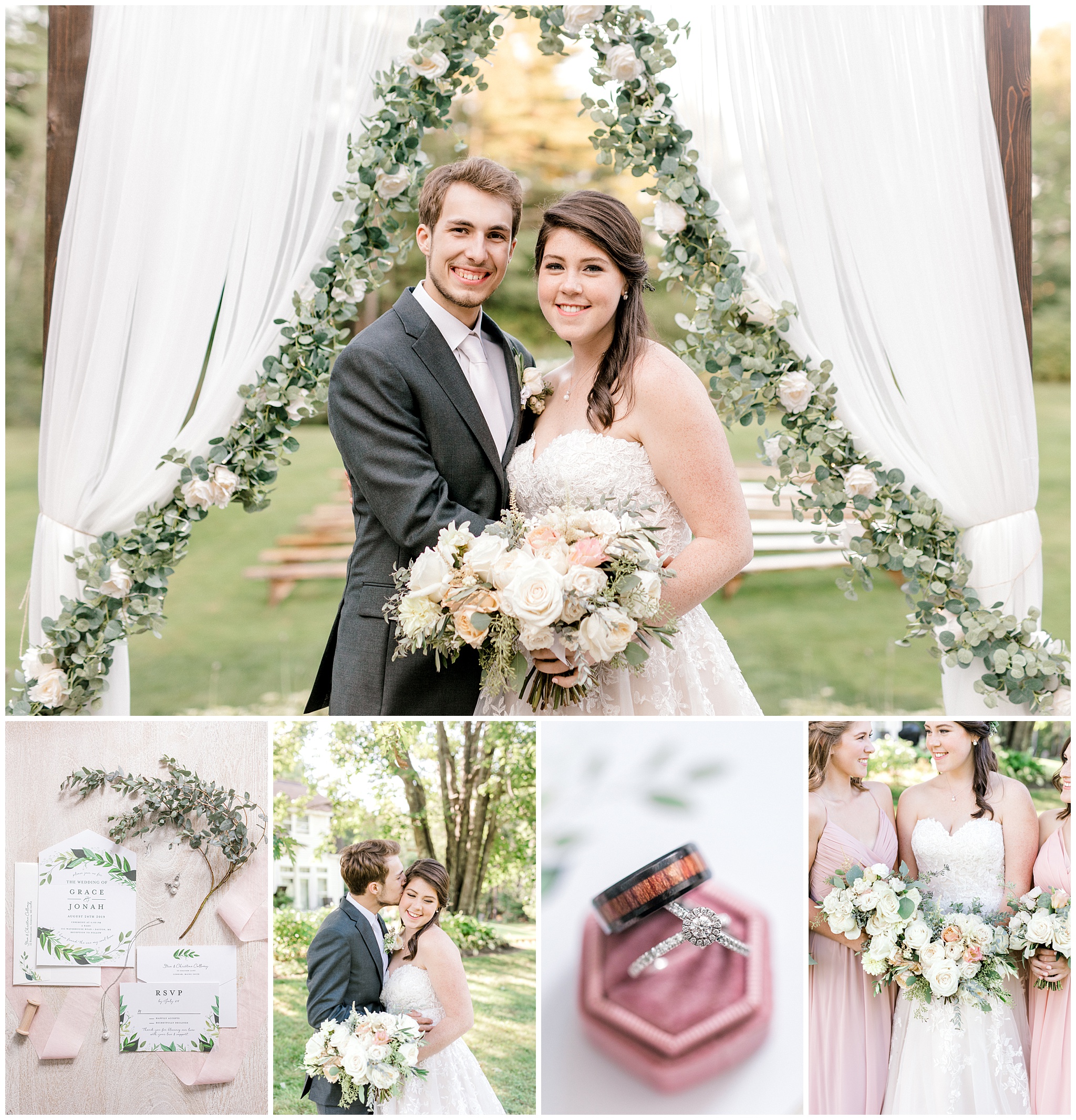 A sunny and romantic wedding, filled with pinks, whites, golds, and greens – It's hard to describe how much I loved this wedding day! Grace and Jonah's sweet smiles and personalities bring life to everyone around them, and their wedding portrayed that in the best way!
Grace and Jonah met 3 years ago when they were both at an ice skating rink with friends. They starting talking, and found out that they were both about to celebrate their 18th birthdays coming up. The rest, as they say, is history. Grace and Jonah are always looking for their next adventure together. They've been skydiving (which is a hard NO from me!), and recently purchased a mini bus, which they are in the process of renovating so that they can travel and live in it! They are honestly so incredibly easy to talk to and be around. We spent their engagement session walking around at Kettle Cove, one of their favorite beaches in Maine. The best way that I can describe these two is that JOY exudes from them at all times! And at the same time, they have such a steady, authentic, and graceful presence about them – what great qualities to have!
I actually met Jonah 3 years ago myself, when he was a groomsman at his sister's wedding that I was photographing. I remember that he stood out to me, partly because he had a cool name, and partly because I remember thinking that he just seemed like a really nice, respectful kid! Not to mention, Jonah really has a fantastic smile, and you can't help smiling and laughing with him! A year later, I saw Jonah again, this time with Grace, at another sister's wedding! So when Grace's Mom contacted me, and told me that the Maskell family had highly recommended me, I was thrilled! Between photographing all three kids' weddings, and even a family portrait session with them last year, I feel like part of the family now! It is such an honor and joy to be invited back into a family's life for one of their biggest celebrations. The Maskell Family and the Collomy Family are the kind of people that you want to surround yourself with in life. They are genuine, endearing, encouraging, and obviously raise the best kids! The fact that Grace and Jonah found each other, and that their families get along so well, is really a testament to their faith and trust in God, and how He blesses His children!
Grace's Mom, Christine, and her sister, Rachel, had a HUGE part in planning this wedding! I have to give them credit here, because they did an amazing job! A Barn is a family homestead, and walking up to it, you definitely feel a sense of belonging and happiness. The Collomy family really transformed the inside of the barn, giving it a truly magical, romantic feel. When I arrived that day, I found family members bustling about the barn, adding last minute touches. The girls were up in the getting ready suite, and the weather outside was just perfect. The humidity had just broken the day before, so we had the perfect, sunny, 72 degree day with a slight breeze. Grace and Jonah chose to do a first look, where they saw each other before the ceremony. Between that, and the first look that Grace had with her Dad a few minutes later, I think everyone was in tears! The ceremony was held just before sunset, and was officiated by Grace's grandfather, Pastor White. Once everyone got into the reception, a beyond delicious meal was served by Mac's BBQ and Catering. The cornbread with the honey butter was possibly one of the best foods I've ever had! Once it was dark out, Grace and Jonah stepped out onto the patio, lit only by the twinkle lights and stars above, and danced together as husband and wife. At the end of the night, they ran out to their car in between sparklers held by their loved ones. It was a perfect day! Congratulations Mr. and Mrs. Maskell, I wish you all the best in your next adventure together! I hope you're able to get some zip-lining in on your honeymoon 🙂
Venue:  A Barn, Dayton, ME
Bridal Dress:  Blush Bridal & Formal, South Portland, Maine
Suits:  Men's Warehouse, South Portland, Maine
Florals:  Florals by Fittsy, Portland, Maine & Farmhouse Flowers, Buxton, Maine
Caterer:  MAC's BBQ & Catering, Biddeford, Maine
Cake:  Reilly's Bakery, Biddeford, Maine
Assorted Desserts:  Bakeosaurus, Gorham, Maine
Ice Cream Vendor:   Little Bee Honey Ice Cream, Portland, Maine
Makeup Artist:  Samantha Clark
Hair Artist:  Angie Adams, Gorham, Maine
Rentals:  Something Borrowed, Portland, Maine & One Stop Event Rentals, South Portland, Maine
Wedding Coordinator: Amanda Banks of AB Events, Maine
Photographer: Andrea Simmons Photography, Gardiner, Maine
Second Photographer: Laura Stevens Photography, Winthrop, Maine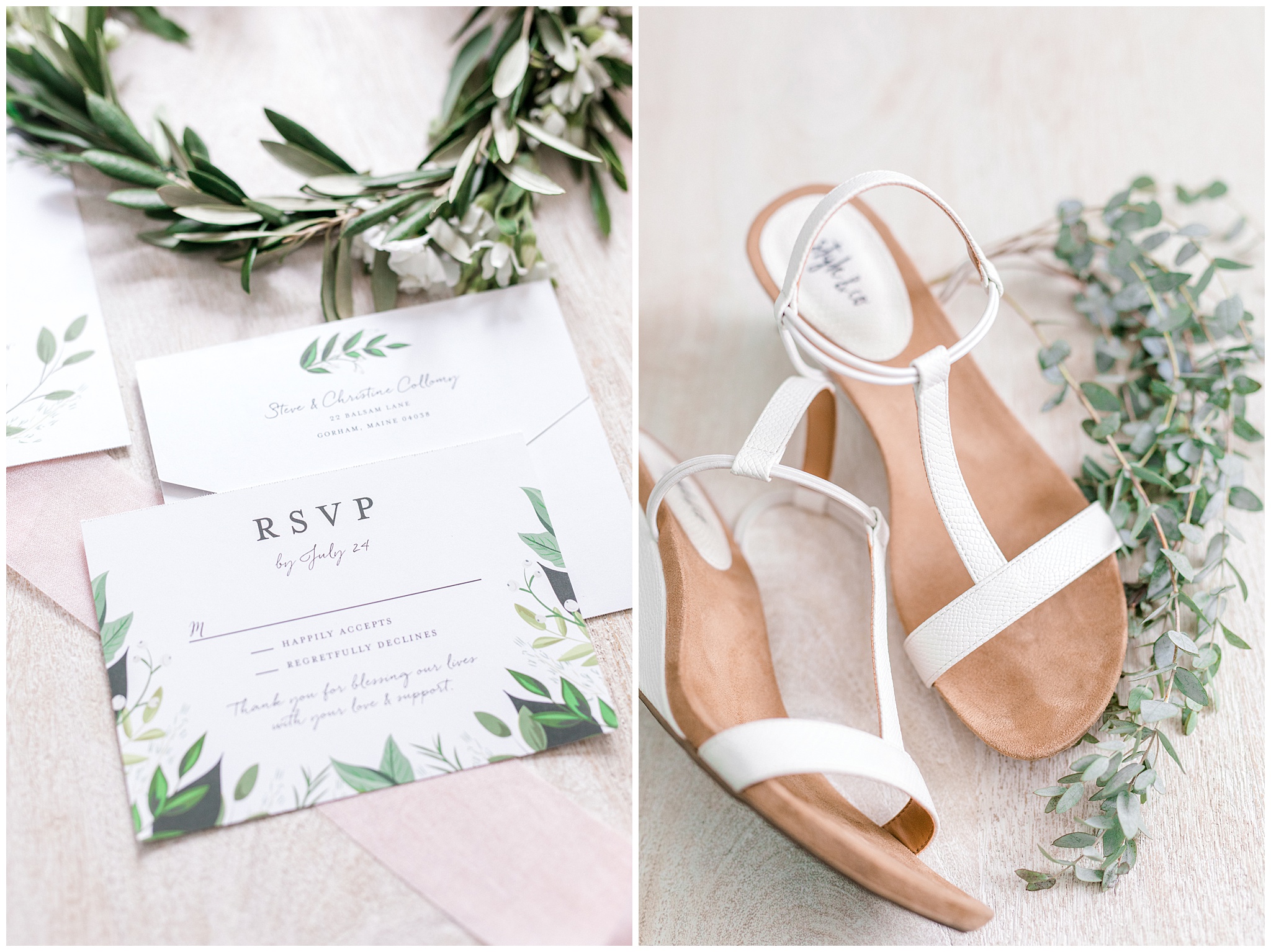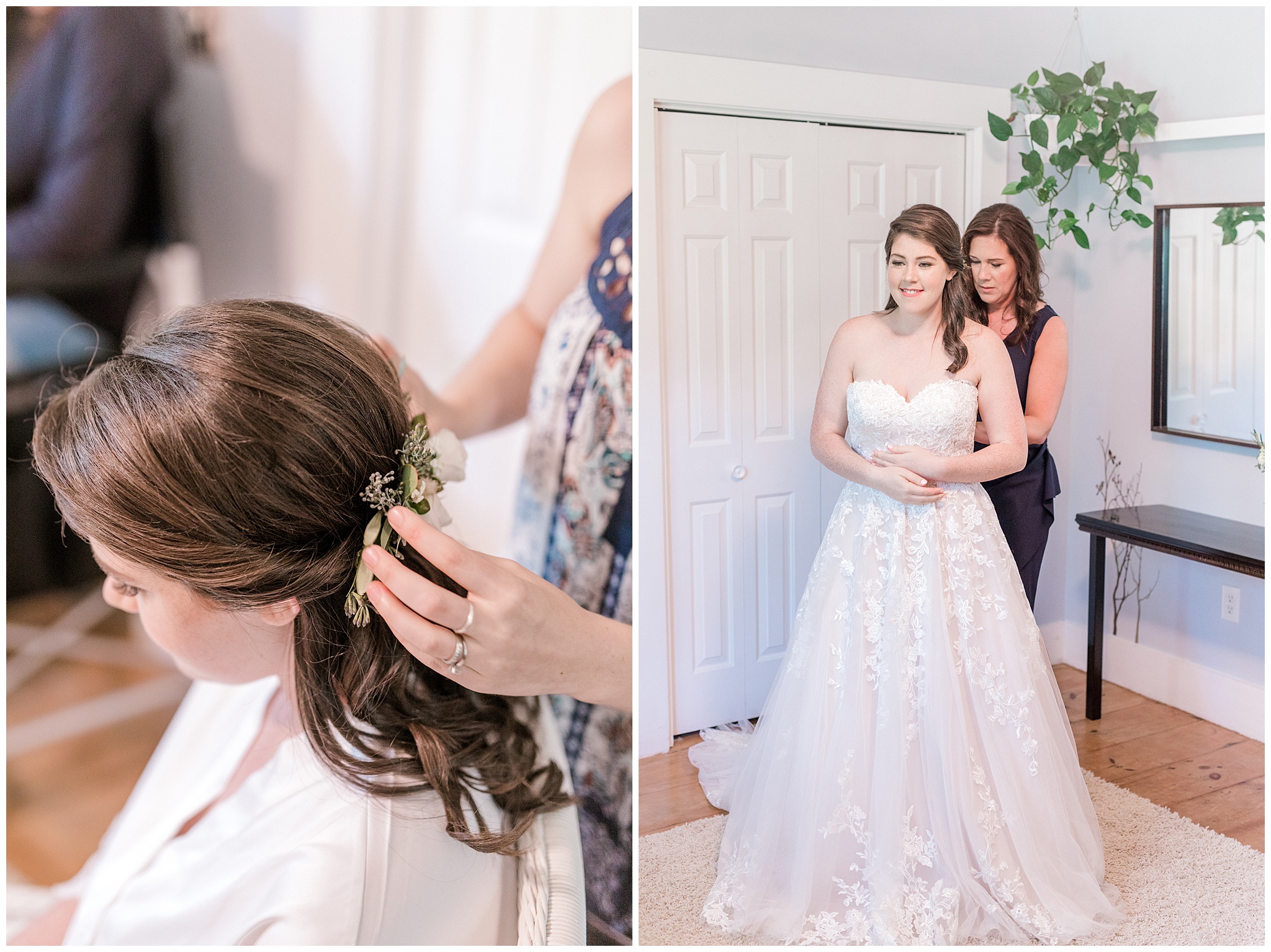 I love this picture of when one of Grace's bridesmaids (on the left here) sees her for the first time in her dress! She was speechless!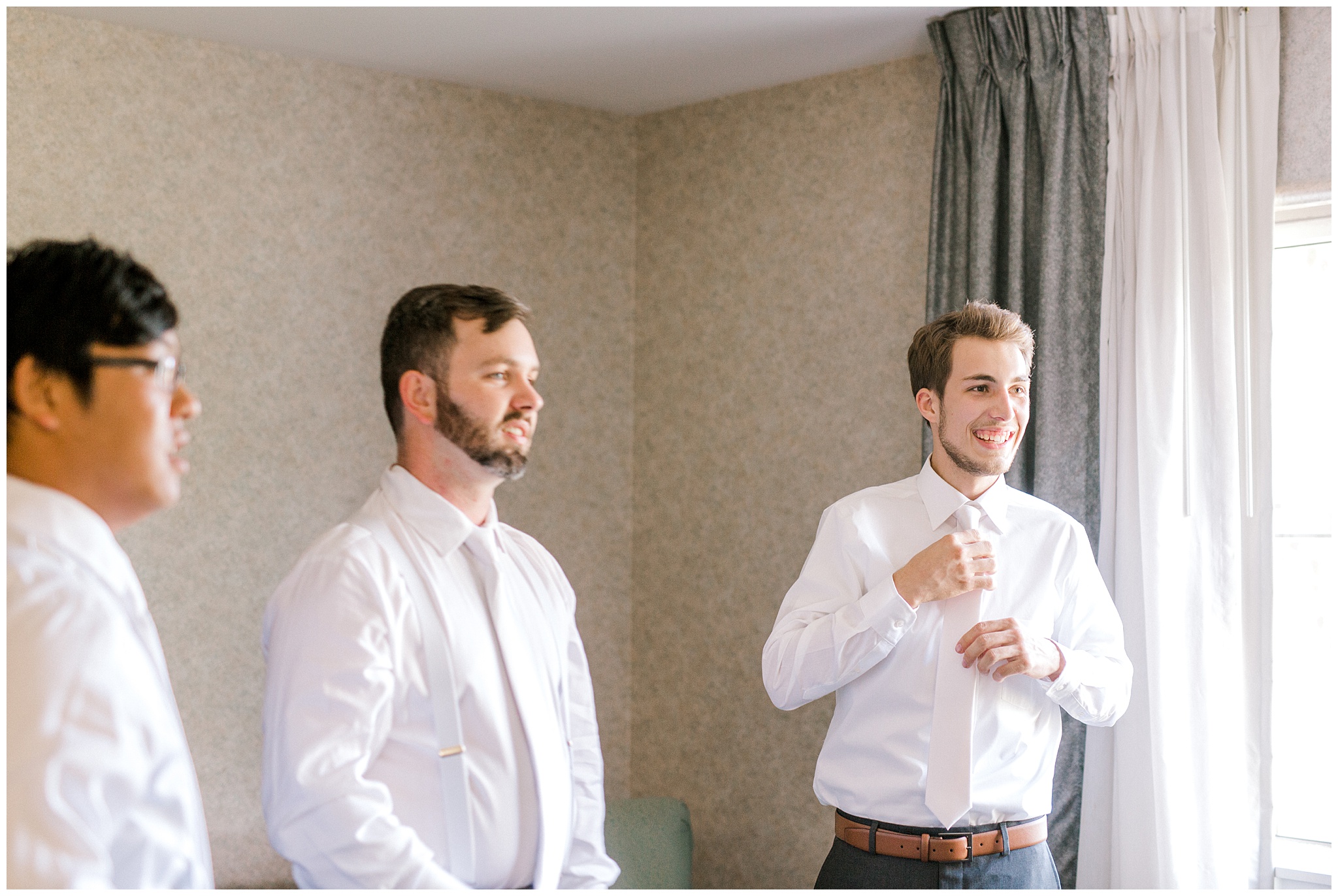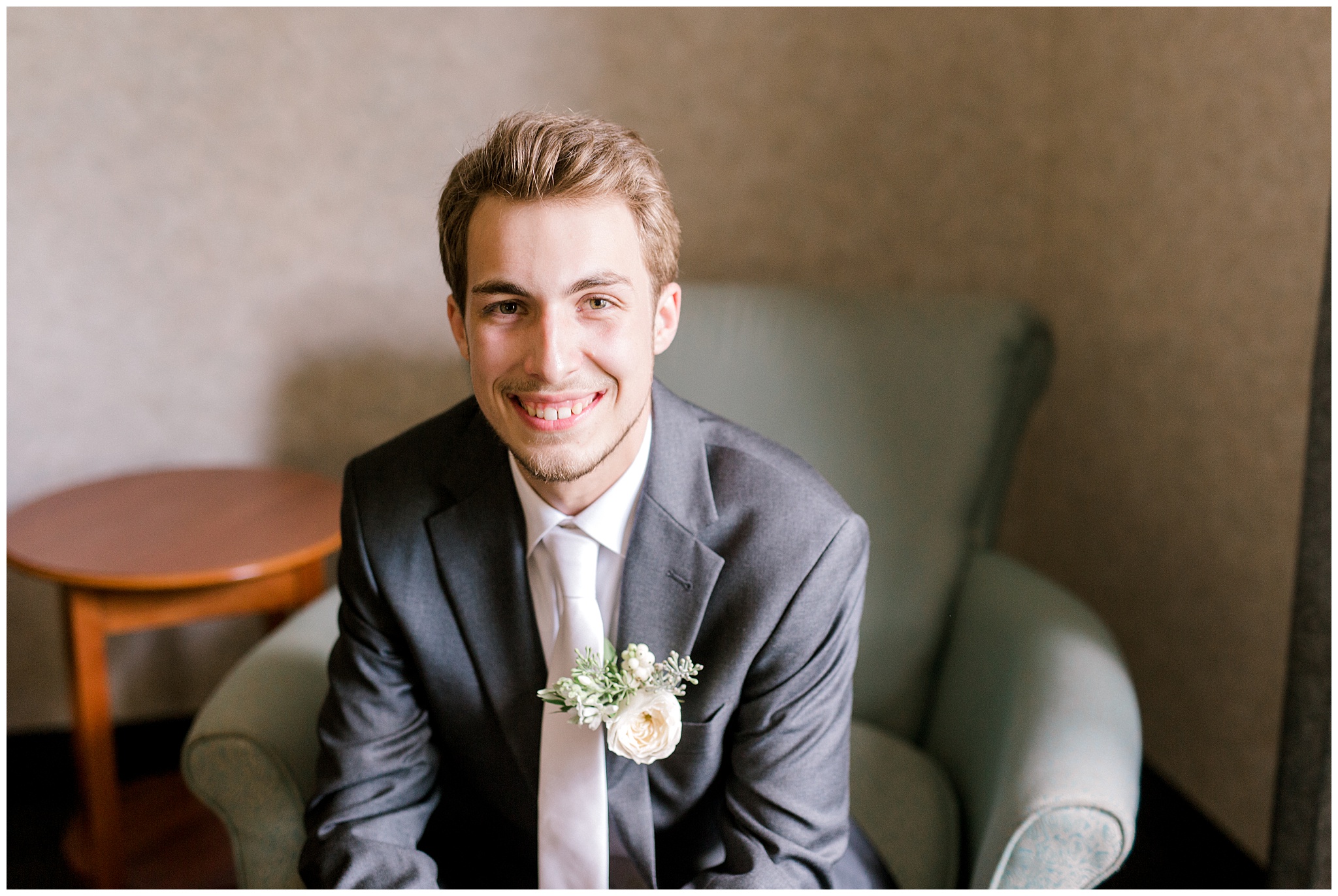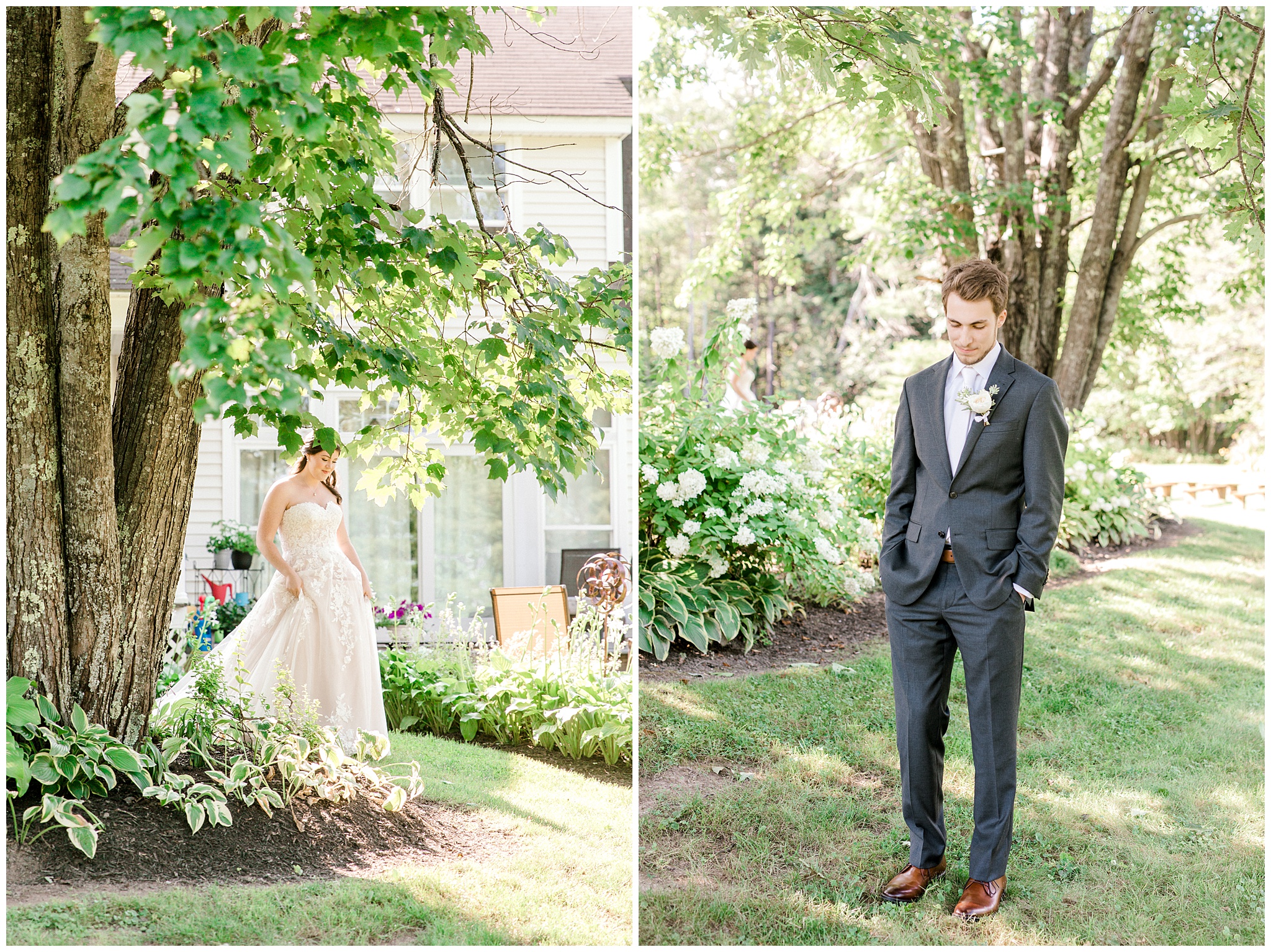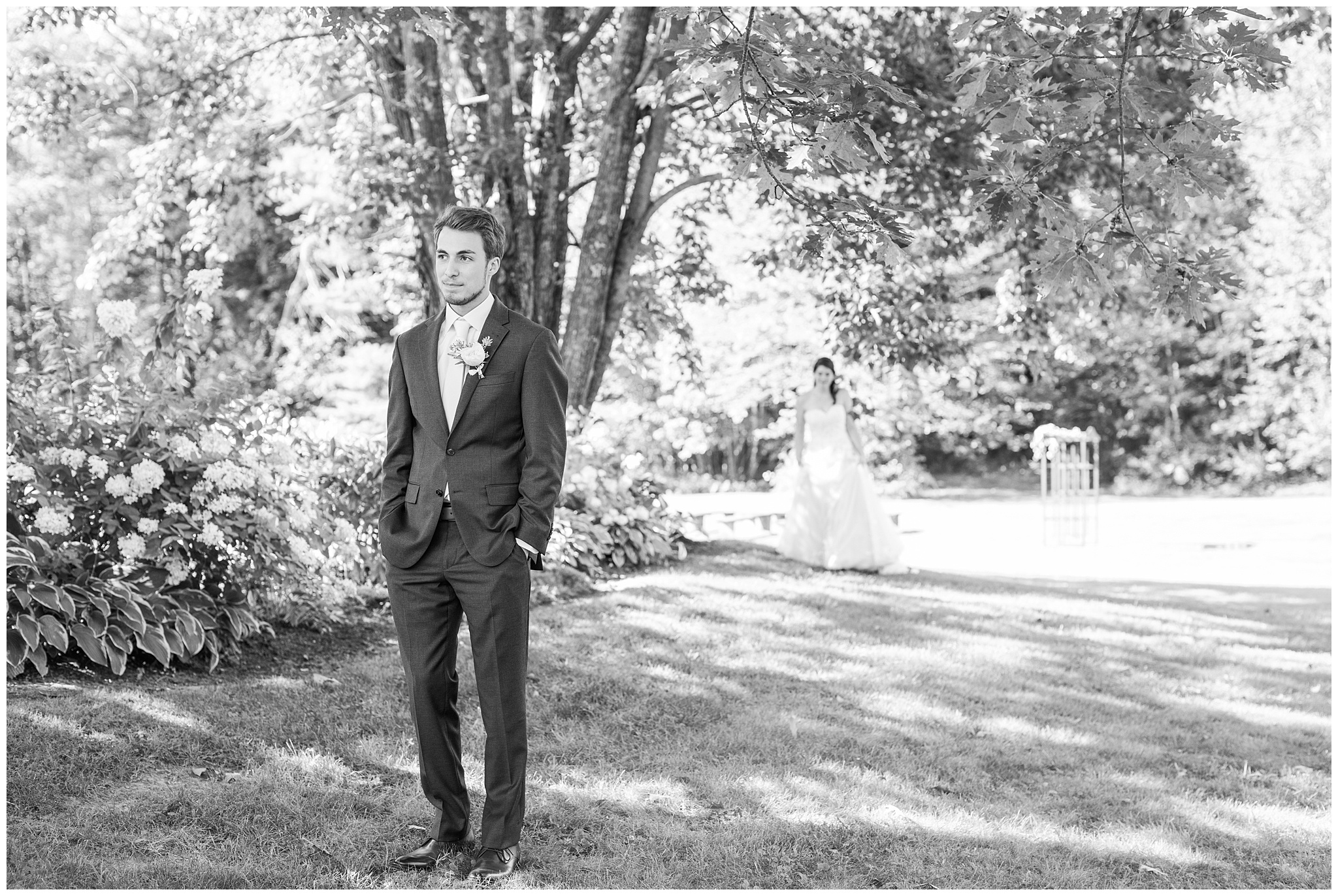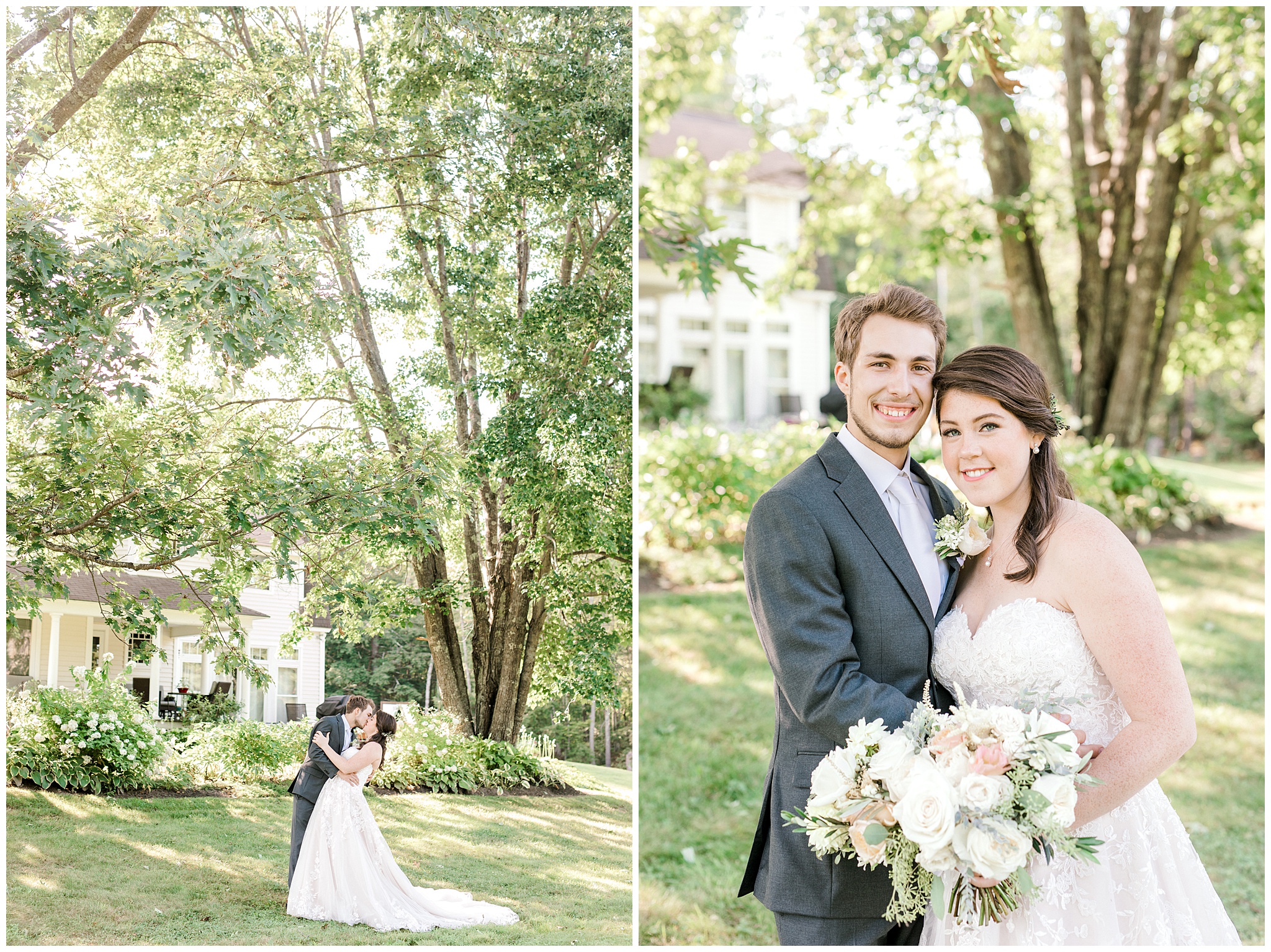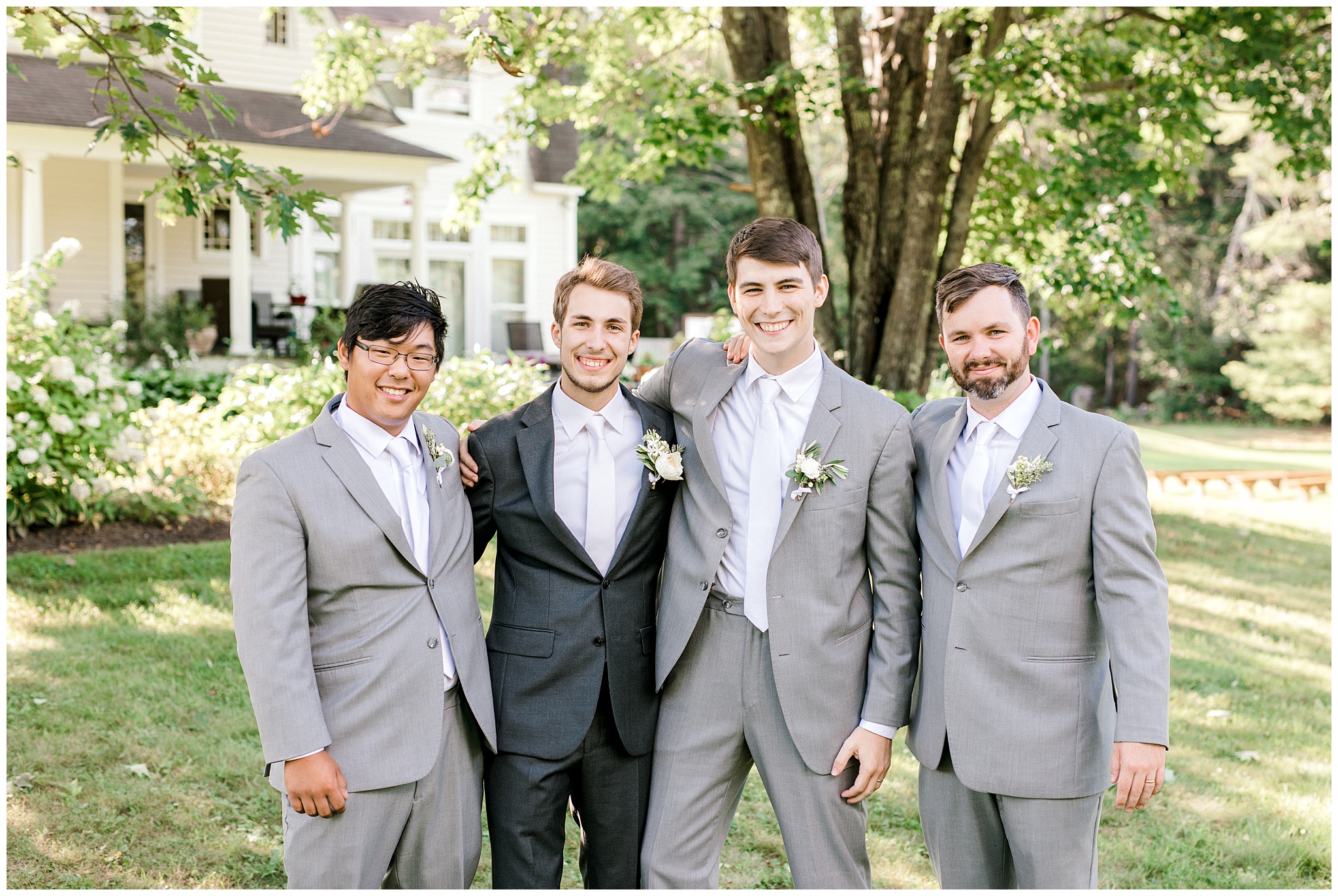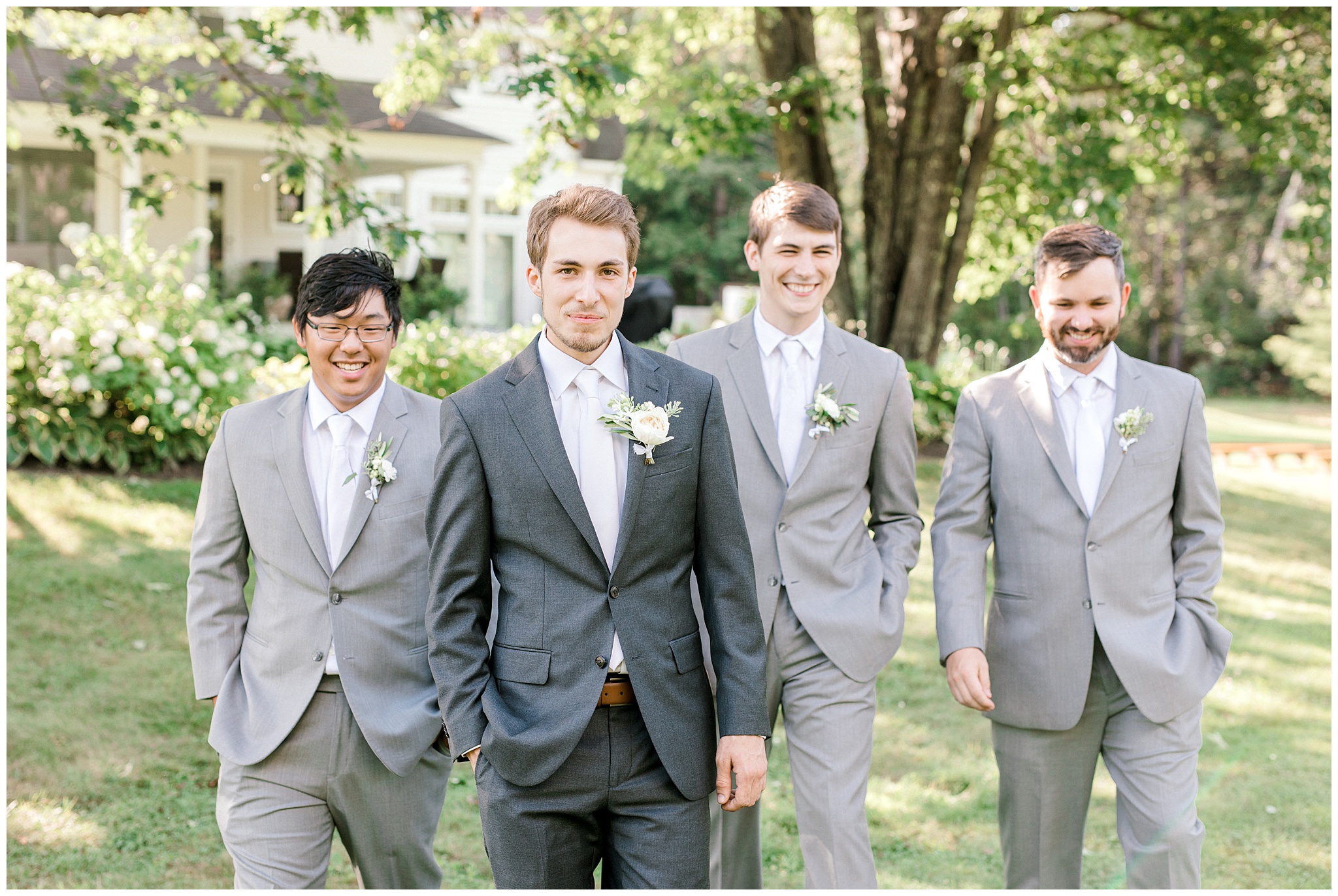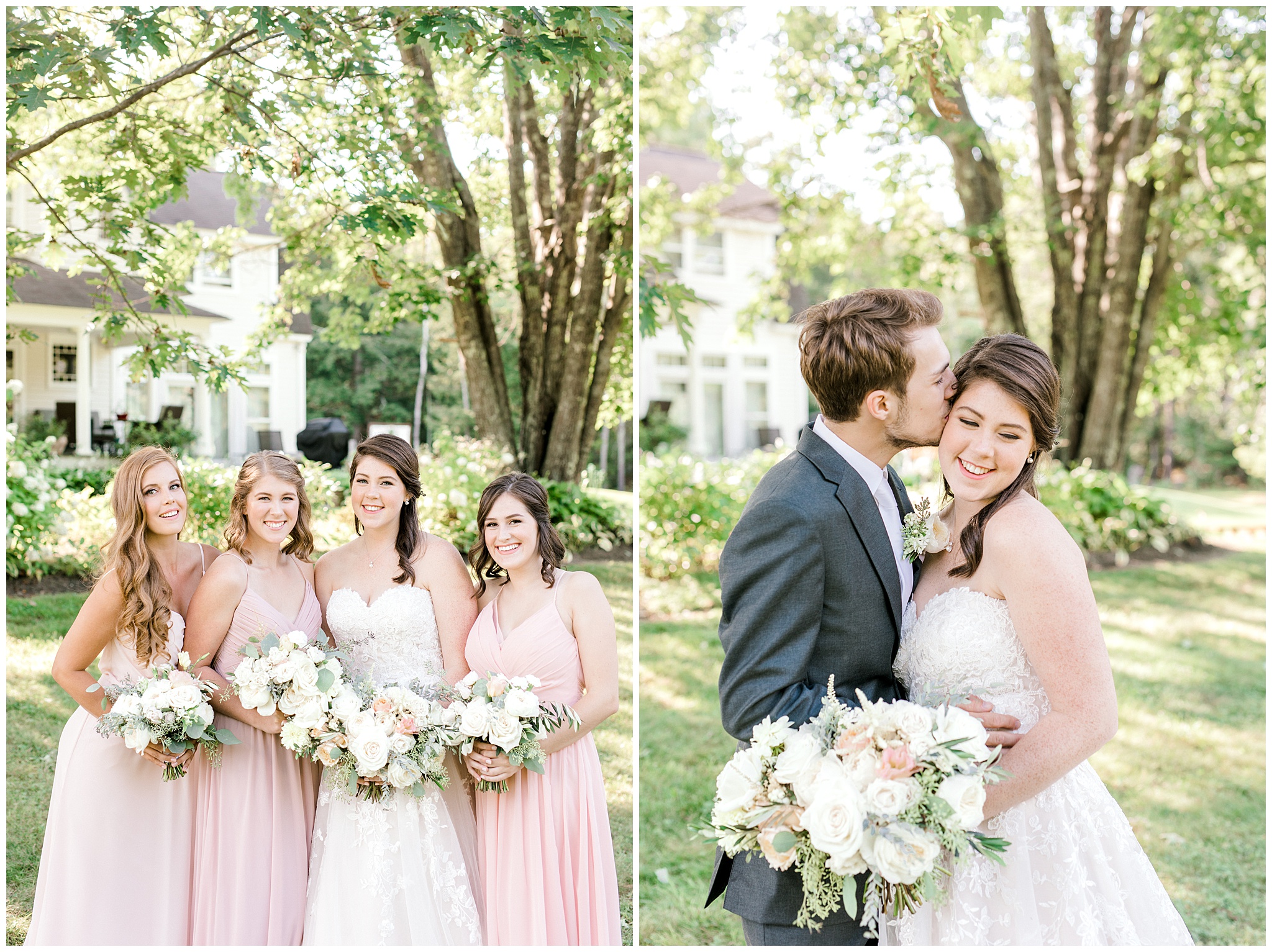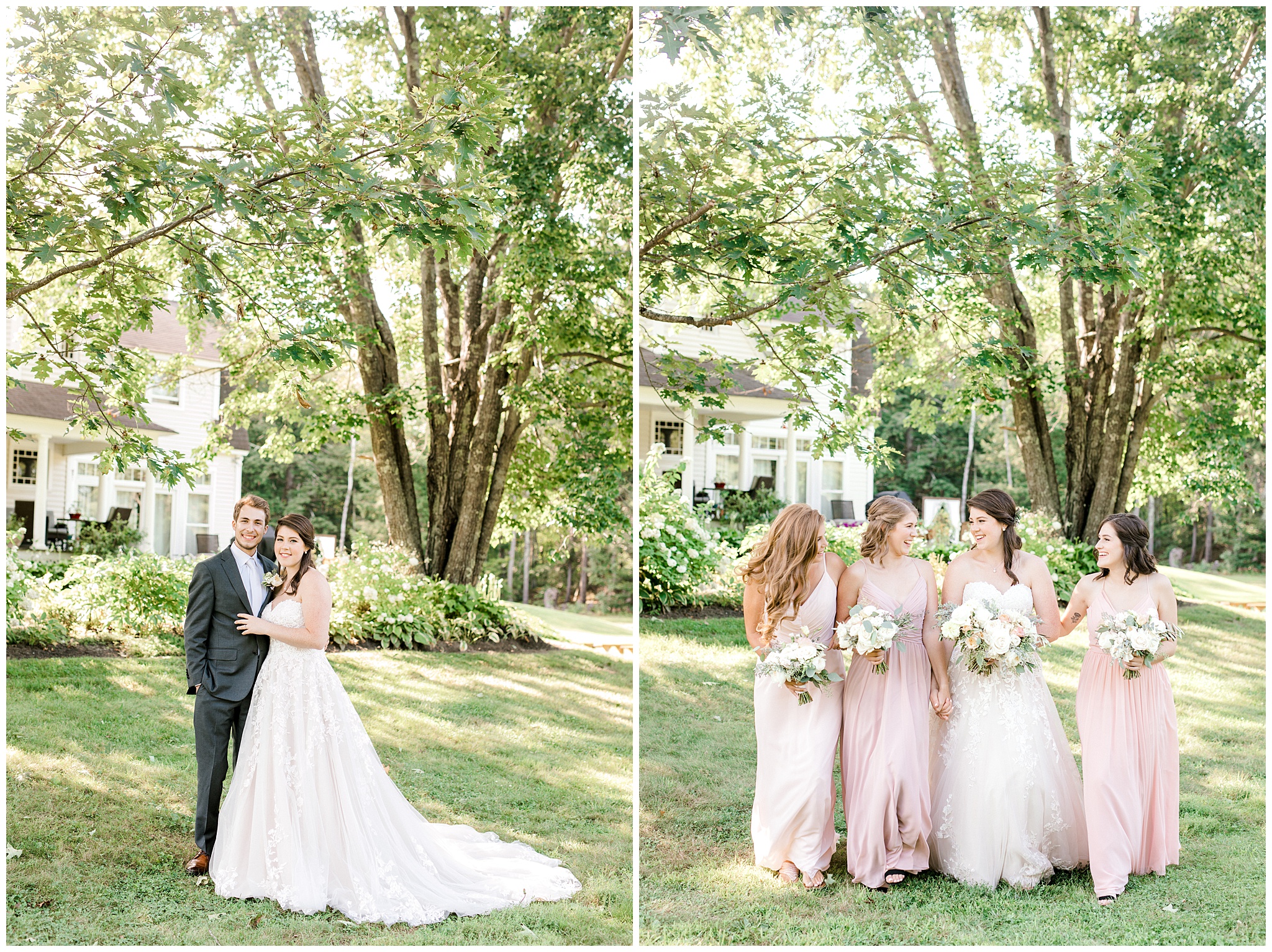 Grace's grandfather, Pastor White, found each family before the ceremony to pray with them. What a beautiful way to start a wedding day!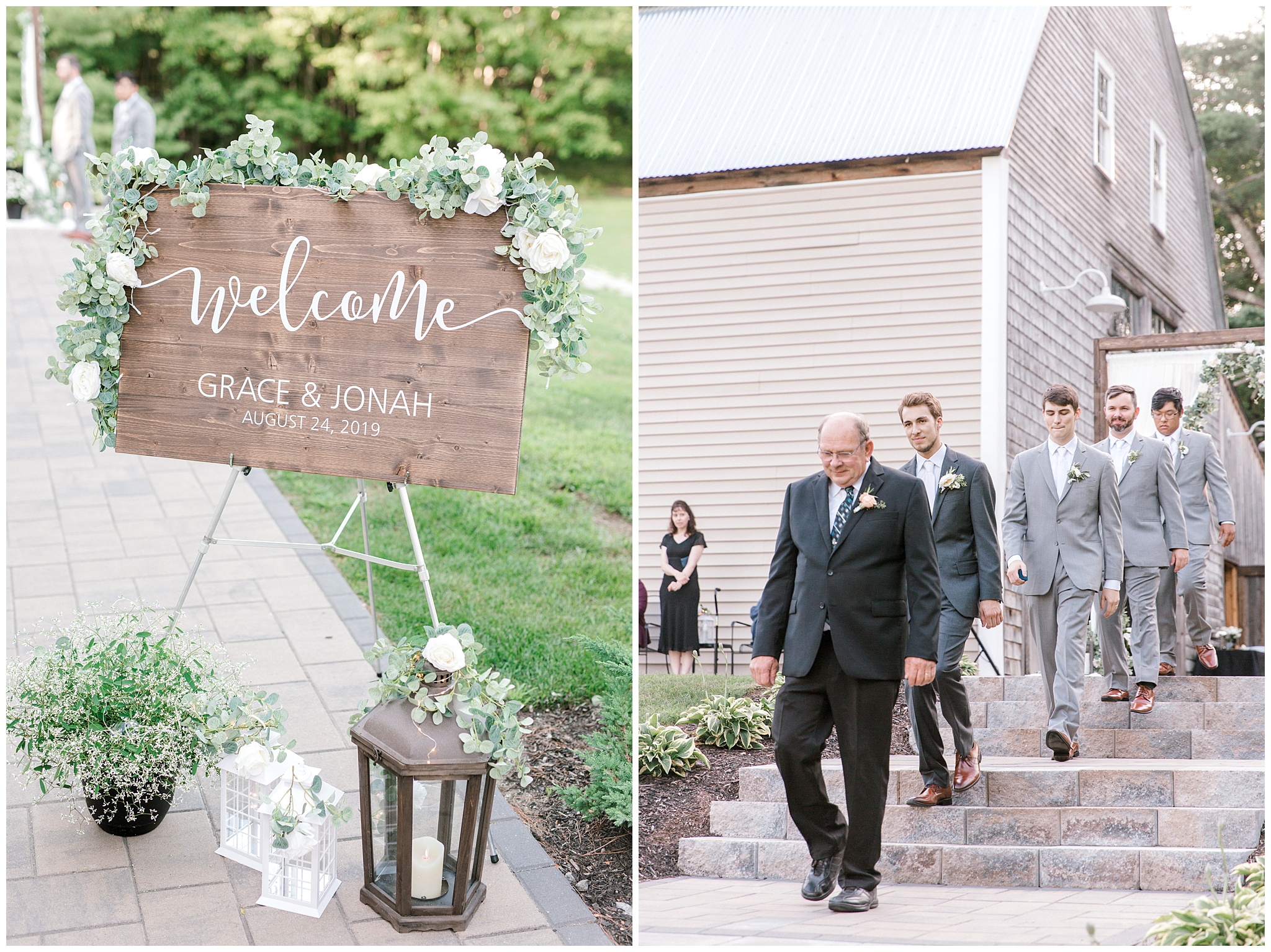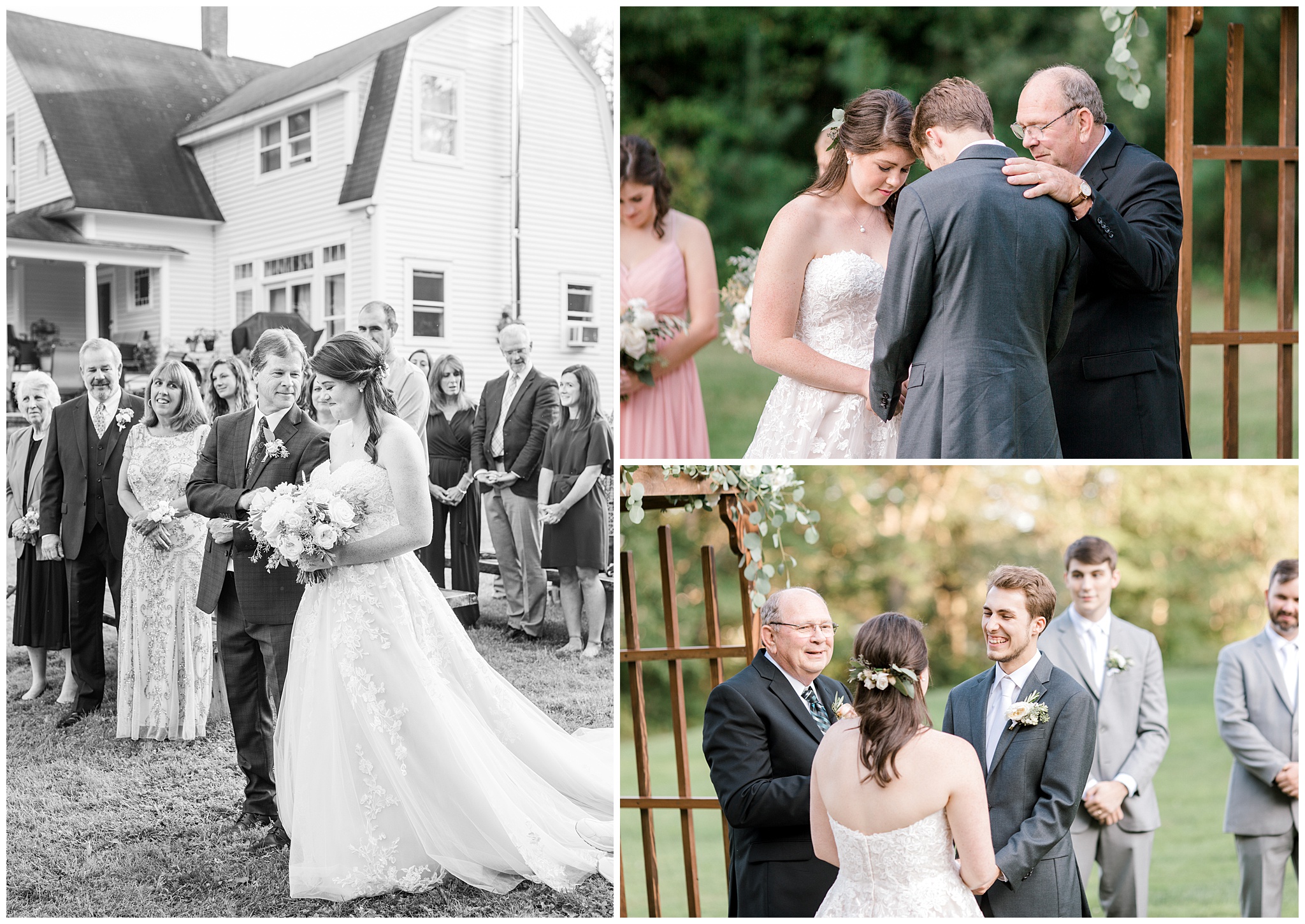 I didn't tell them to stop there at the top to kiss, but I'm so glad they did! LOVE!!!