Josh and Amy's Duffy's Tavern & Grill Wedding | Old Orchard Beach, Maine, Wedding Photographer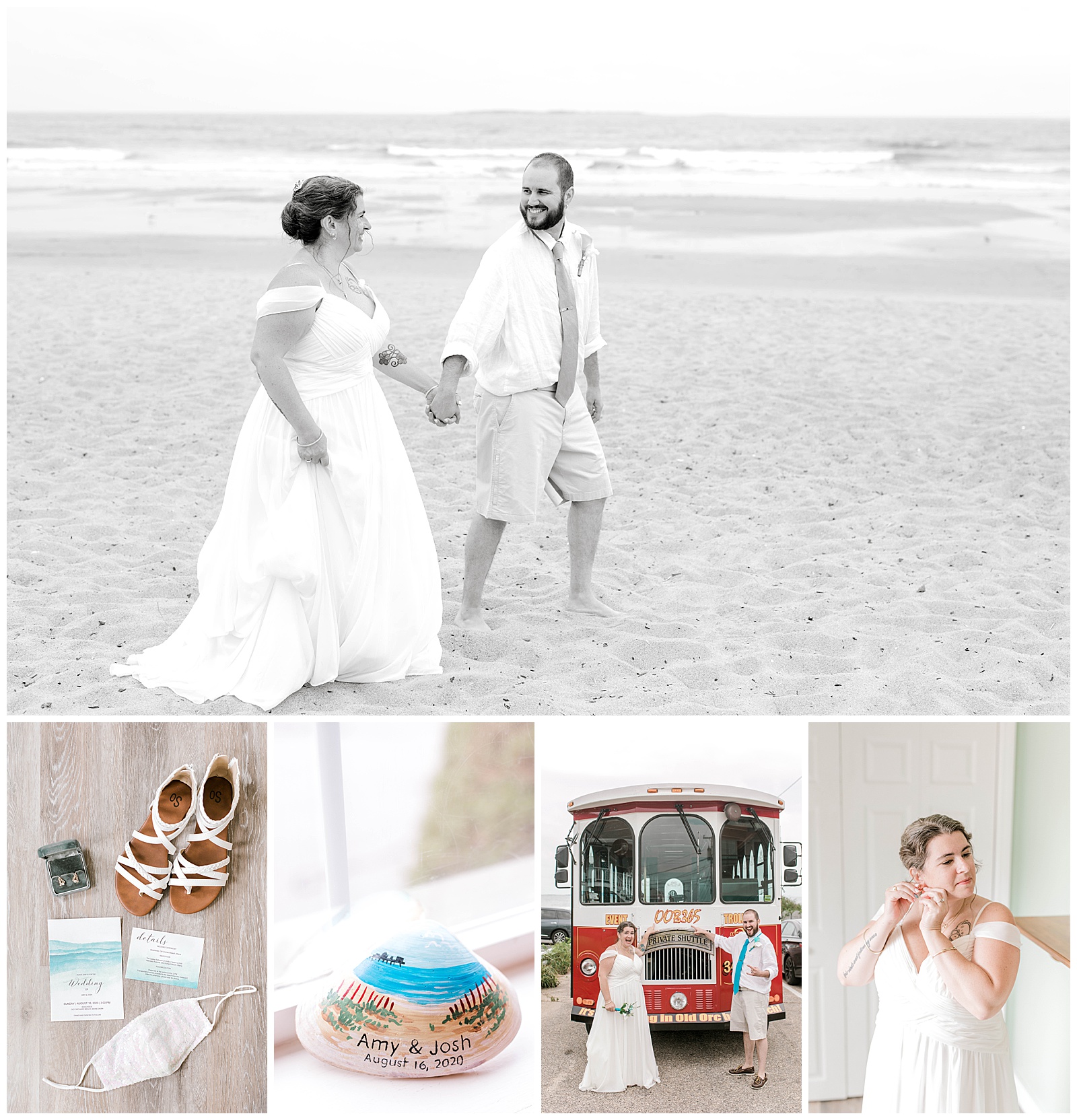 This sweet and intimate coastal beach wedding was one that I'll remember for a long time! There were some very unique aspects to this wedding that I just loved!
Amy is from New Hampshire, and grew up vacationing in Old Orchard Beach every summer with her family. Josh is from Maine, and as a baby, his first beach trip was to Higgins Beach (where we did their engagement session!). He grew up vacationing at both Higgins Beach and Old Orchard Beach. This couple absolutely loves the beach, and knew that they wanted a beach wedding! They chose to share the same wedding date as Amy's parents, who are celebrating their 45th anniversary this year! I love that this family will truly have so many reasons to celebrate on this day each year!
Josh was honestly one of the happiest grooms I've ever worked with. I don't think I saw him once that day without a huge smile on his face. You could tell he was SO excited to be married to Amy! Amy and Josh are Deaf, and since the Maine/New Hampshire Deaf community is fairly small, they grew up knowing each other as acquaintances. They really started to spend more time together a few years ago, and the rest is history! Going into this wedding, I was nervous about being able to communicate well with Josh and Amy since I know very little sign language, but I quickly learned that with some patience and lots of smiles and laughter, it was easier than I expected!
Amy and Josh were married right on the beach, on a cloudy, yet warm, Sunday afternoon in August. They signed their vows to each other, and their pup/ring bearer, Yaz, excitedly barked as they were pouring their unity sand together. There were two hired interpreters, who took turns interpreting the ceremony, as well as the toasts and songs during the reception. After taking photos on the beach, everyone took the trolley to Duffy's. I had never been to this venue before, and while I was expecting a restaurant setting, instead I found myself in their gallery room, which is more like a modern ballroom. Dinner, toasts, and dancing filled the rest of the evening, and I loved watching some of the guests signing the songs while simultaneously dancing. I learned about some traditions in the Deaf community, for example, instead of clinking glasses to encourage the bride and groom to kiss, everyone just waves their napkins in the air! Honestly, I'd be happy just doing this at every wedding from here on out – it's so fun to photograph! There was so much incredible energy and love that filled the room that night, I even found myself with tears in my eyes at a few times! To honor Amy's parent's anniversary, after Amy and Josh cut their wedding cake, they surprised Amy's parents with an anniversary cake to cut, as well as a special dance!
Congratulations Amy and Josh, and thank you so much for letting me be part of your special day!
Venue: Duffy's Tavern & Grill, Old Orchard Beach, Maine
Florals: Wedideas, Etsy
Wedding Cake and Desserts: Kelly Rondeau of Honey & Love Baking Co., Portland, Maine
Makeup and Hair Artist: Emily LaRose
Bridal Gown: David's Bridal, South Portland, Maine
Alterations: Hem & Veil, Portland, Maine
Interpreters: Julia Schafer and Marisa Zastrow
Custom Shell Favors: Daniel Winship
Trolley: OOB365, Old Orchard Beach, Maine
Photographer: Andrea Simmons Photography LLC, Gardiner, Maine