Nick and Ellen's Point Sebago Resort Wedding | Casco, Maine, Wedding Photographer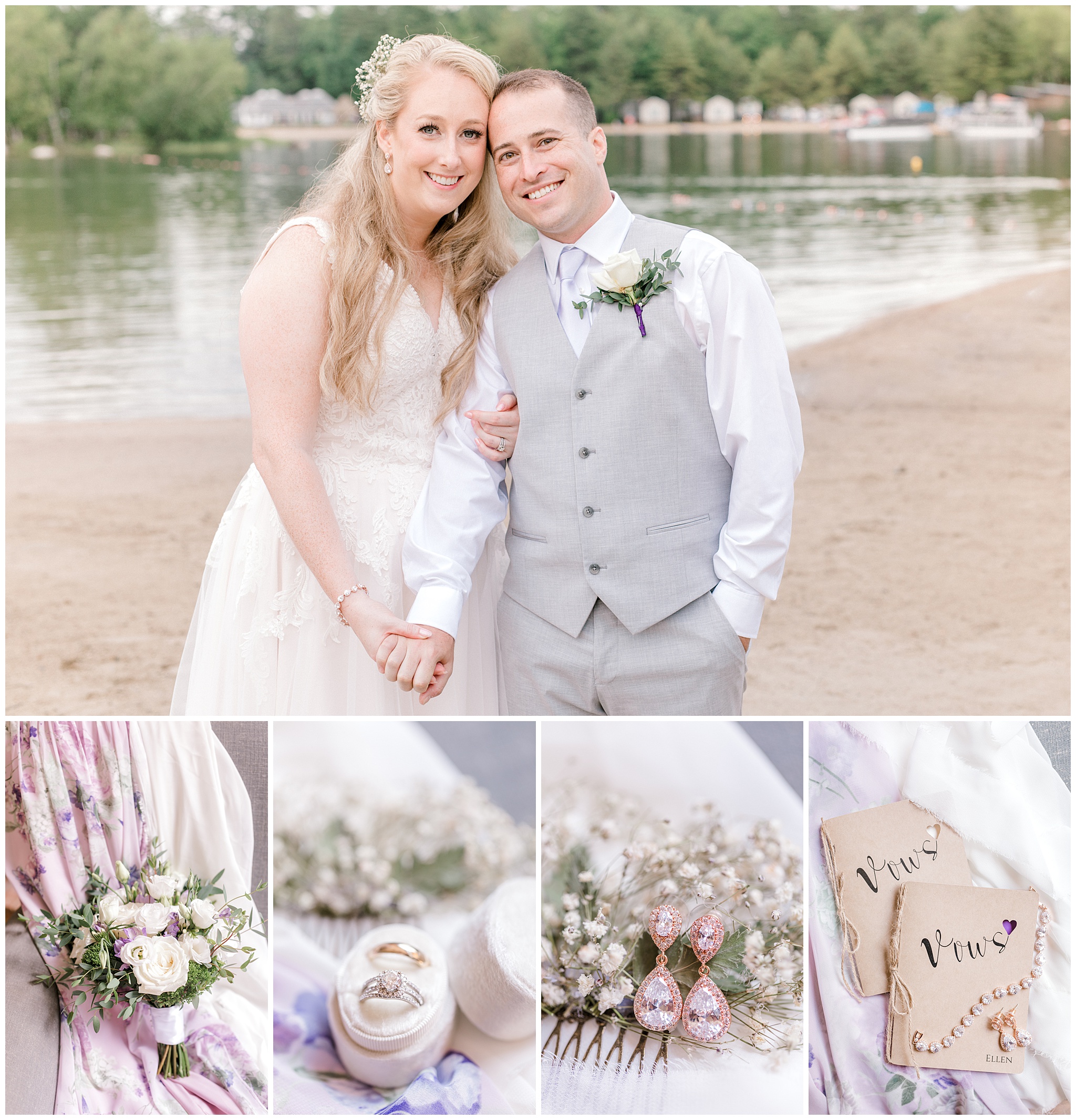 A rainy day didn't stop these two from having the fun and relaxed camp wedding they'd always dreamed about!
When I first spoke with Ellen a few months ago, she described herself and Nick and "super easy going and laid back". I have to admit, I've heard that from several couples, but upon meeting them on the morning of their wedding, I realized how true this was! The day started off sunny, and there was a bustling and air of excitement in the cabin as the 9(!) bridesmaids got ready. I was absolutely thrilled when I saw the girls' lavender floral dresses! I'm obsessed with them! The boys were down at the Sebago Lake beach, squeezing in some last minute relaxation before the day started. We took Ellen and Nick to a nearby bridge, where they saw each other for the first time. I'm pretty sure they both cried a little, but through the biggest smiles! We started seeing some impending dark clouds, so we quickly took a few bridal party pictures before hurrying back to the house! And then it started raining. The ceremony site by the lake was already set up, and we watched as the seats filled with puddles. The guests started to arrive and gathered into the upstairs and downstairs of the house and greeted each other. The ceremony time came and went as we anxiously watched the radar, hoping for a break in the rain. Eventually, the bride and groom gave in to the weather, and decided to move the ceremony to a tent down the road. Some guests were happy to walk over in the rain, while others took the camp's golf cart over. Everyone quickly worked together to rearrange the tent and create an aisle, and soon the bride arrived. The ceremony was beautiful, with only the occasional adorable interruption by Ellen's nephew who was the ring bearer. Everyone laughed, and sometime around the first kiss, it stopped raining! We took advantage of the dry spell and were able to do all the family formals outside, as well as more bridal party pictures, and of course, some pictures of the newly married couple! The reception was held at the lodge nearby, the ceiling completely covered in twinkle lights and glowing orbs. Everyone relaxed and enjoyed the evening, dancing and chatting and laughing the night away. Thank you, Ellen and Nick, for trusting me to capture your beautiful day!
Venue: Point Sebago Resort, Casco, Maine
Bride's Dress: Pure Bliss, Newburyport, Massachussetts
Suits: Alfani from Macy's
DJ: Direct Effect Entertainment Production
Hair: SmartStyle Hair Salon
Makeup: Abby St. Clair of Au Dela Beauty, Westbrook, Maine
Florals: Sheryl Ruggiero of Leiby's Garden & Flower Shop, Weston, Massachusetts
Photographer: Andrea Simmons Photography, LLC, Gardiner, Maine
Second Photographer: Peter Greeno, Scarborough, Maine