Sebastian and Mahaley's A Barn Wedding | Dayton, Maine Wedding Photographer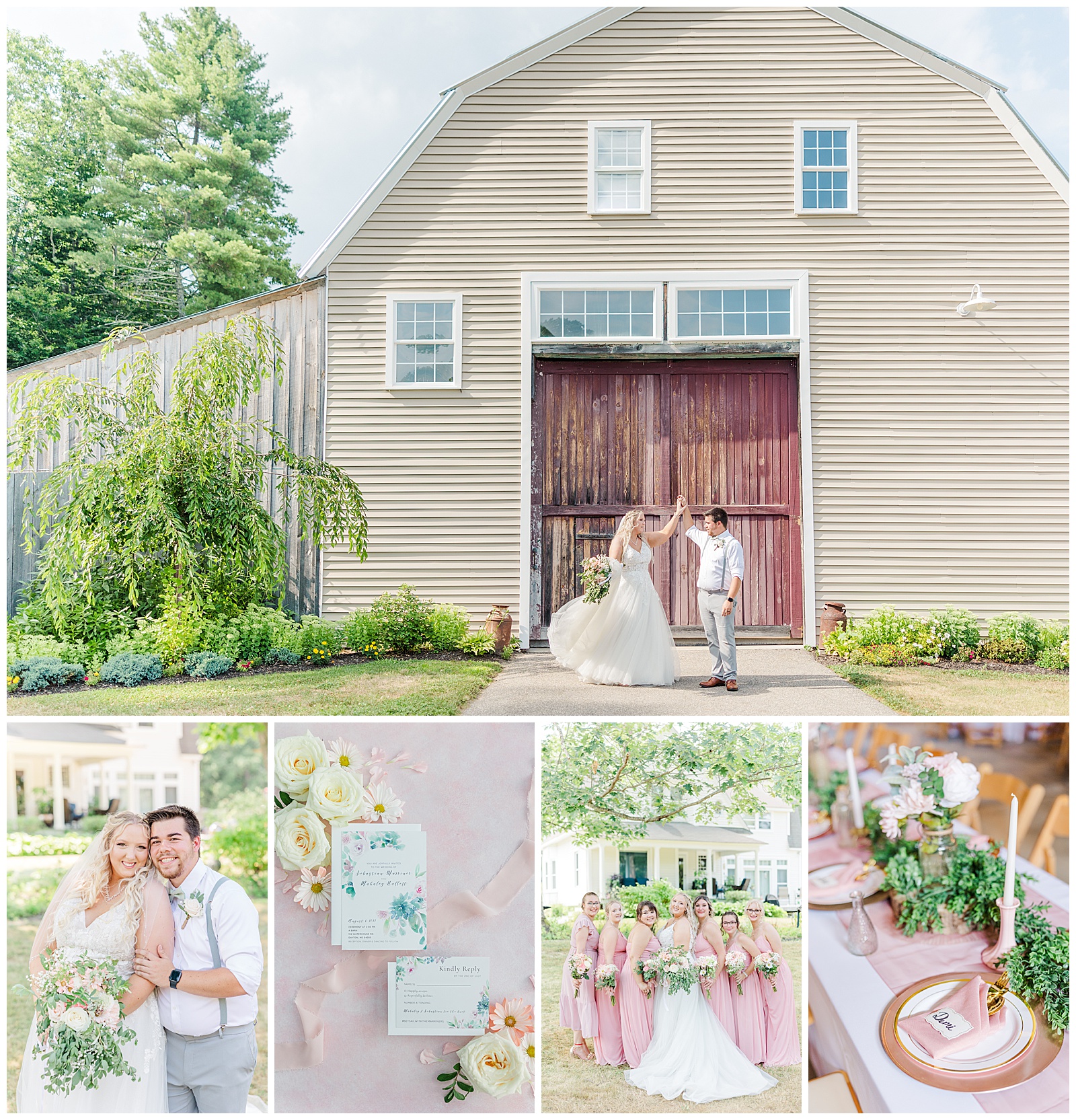 A warm and sunny August wedding at a Southern Maine barn, adorned with soft pinks and seafoam green – this wedding day had everything from an energetic pup to rainstorms and rainbows!
When Mahaley and Sebastian matched in a dating app, it was only because Sebastian happened to be driving down to Boston and drove through the area where Mahaley lived in Southern Maine. It truly was meant to be, and they met in person only a week later. The first thing that Mahaley noticed about Sebastian was that he was very respectful, chivalrous, and sweet. They moved in together only a month later, and he proposed to her at Deering Oaks Park in Portland in 2021. Mahaley actually contacted me a few days after they were engaged, before she even had a date set or a venue chosen. I'll never forget her email, because it made my day, specifically saying, "I have followed your work for a very long time, and when i got engaged this week I knew I had to reach out to you to make sure you could photograph our wedding before I planned it… you're a crucial part of my day!" – How sweet is that?! When planning their wedding, they fell in love with A Barn – which had everything they were hoping for in a wedding venue. We met at Pineland Farms in New Gloucester for their engagement session last Fall, and I instantly connected with them both. I found that they were so easy to talk to, and we had so much in common!
I arrived the morning of their wedding already drenched in sweat – it was a sweltering 90 degrees on their wedding day! We all just embraced the heat though, and I was just thankful I wasn't the one in photos, since I looked like a hot mess all day! Mahaley somehow barely seemed to break a sweat, and looked absolutely stunning in her gown, which had an entire layer of silver sparkle that glittered like a Disney princess dress in the sun! Mahaley and Sebastian chose to do a first look in the shade, followed by a first look with Mahaley's Dad as well! I loved watching Mahaley and Sebastian all day – they way they were so gentle and kind with each other, and how they laughed and interacted with their friends and family. They not only did a "first look" with their pup, Chewy, but he also had a special walk-down-the-aisle moment during the ceremony! He was a part of their first date, so it only made sense that he was a part of the wedding day as well! The ceremony was so special – I loved the rope tying ceremony, nodding to Sebastian's history as a lobsterman. We heard some rumbles of thunder during the ceremony, but the skies stayed blue and sunny! I was so impressed by how well Sebastian could spin Mahaley – I don't know how she did so many beautiful spins that day in her dress and didn't even seem to get dizzy! The barn was adorned with beautiful drapery and had greenery and flowers all over the tables. Although it was hot, the guests seemed to love the fans that were waiting for them at the ceremony, and did a great job throwing flower petals over the couple after they said 'I do'! There was ice cold lemonade and iced tea available all day, and Mahaley's Dad cooked all the food (so much smoked meat!), which tasted absolutely delicious! After all the special dances were complete, things were starting to wind down when suddenly it started pouring out! Guests and staff grabbed all the things from outside and put them in the barn, where we all enjoyed the relief from the heat as the temperature finally started to go down a bit. Mahaley and Sebastian weren't even phased a bit, and even did a dance together in the rain! They were rewarded with an incredible rainbow to finish off their perfect day, and their friends and family lined the walkway with sparklers as they walked hand-in-hand to their truck.
Thank you so much, Mahaley and Sebastian, for trusting me to capture your special day! Congratulations Mr. and Mrs. Marriner!
Wedding Venue: A Barn, Dayton, Maine
Bride's Dress: Grayce Bridal, South Portland, Maine
Bridesmaid's Dresses: David's Bridal, Portland, Maine
Cake and Desserts: Nancy Pyzynski, Maine
Officiant: Michael Hunter
Videographer: Groff Video, Maine
Caterer: Darin and Mike's Smokin' BBQ, Maine
Photographer: Andrea Simmons Photography, Gardiner, Maine