Dreamy Romantic Ice Castles Styled Shoot in Lincoln, New Hampshire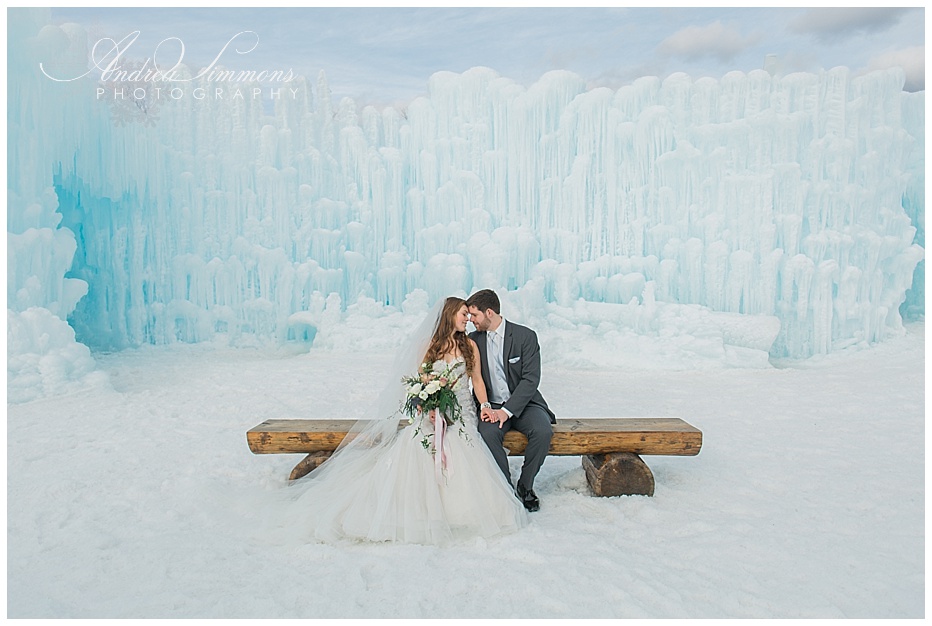 I've been dreaming up this styled shoot in my head for sometime now. I dreamed of a bride in a sweeping romantic dress alongside a handsome groom in the middle of a winter wonderland. When I first saw pictures of the Ice Castles, I knew that's where it had to be.  Now I just had to make it happen.
As I enlisted each of the vendors one by one, I described my vision and then told them to use their creative freedom to add their personal touch to the shoot. I'm so glad I did, because they took my vision and truly ran with it, creating the perfect pieces to add. I asked my good friend, India, if she would consider being my 'bride' for the day alongside her boyfriend, Andy. Neither of them had ever been professionally photographed, but were excited to give it a try! As we traveled the three hours there that morning from Maine, we drove through beautiful white-capped mountains and reveled in the fact that we had lucked out with a warm 50 degree day in February! The Sunny Grange Bed and Breakfast in Campton, NH, were kind enough to give us use of their house to get ready in. The owners, Troy and Christina, were so welcoming and reminded me of the charm of small towns in New England that I love!  We picked up the flowers from Cherry Blossom Floral Designer in Littleton, NH, and I was in awe of how she was able to put together a bouquet with such soft colors and draping greenery.  Christine Flanagan of the Crown Boutique, out of South Berwick, ME, was waiting for us there, and she got started right away on India's hair and makeup.  When India was ready to step into her dress, from Dreams Bridal Boutique and Tuxedo Center in Augusta, ME, everything started to come together!  Her jewelry, from Everistta in New York, NY, was perfect, and we even had a gorgeous invitation suite to photograph from Letter and Line Studio in Seattle, WA.  When we arrived the the Ice Castles in Lincoln, NH for our private session, we were surprised to find that the ice was starting to melt all around us. In fear of getting the dress and tux (also from Dreams Bridal and Tuxedo Center) too wet, we decided to stay out in the open areas, where there was an abundance of natural light reflecting off of every surface. Once all the pieces were in place, it was almost too easy, as each image captured was breathtaking.  I was so thankful to have Meghan Benner, of Perle Photography, along for the day to assist me and to take some additional photos!  Thank you so much to all the vendors, models, and everyone else who helped make this shoot a success!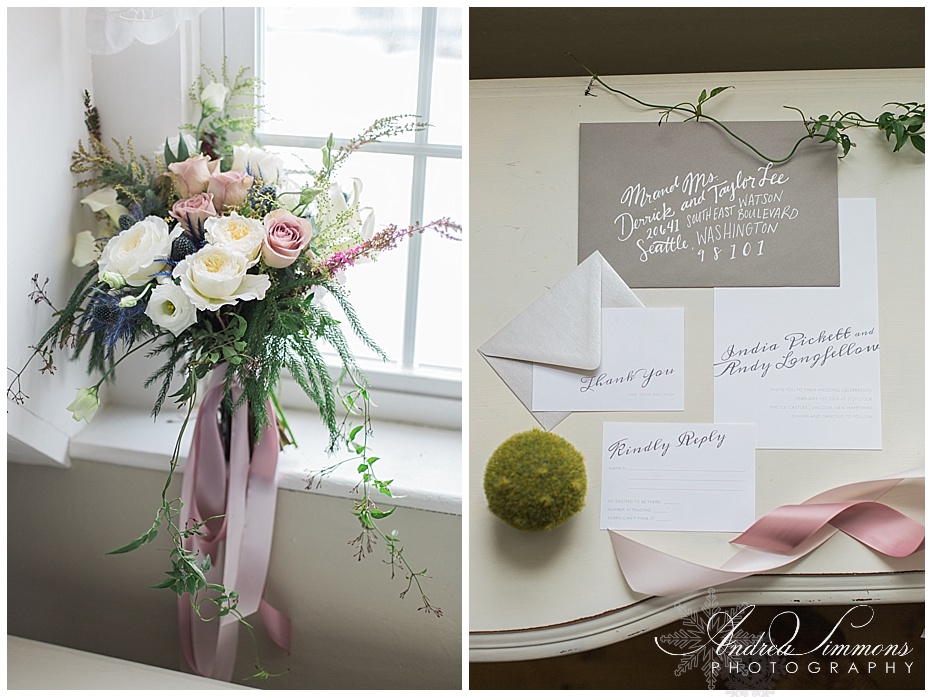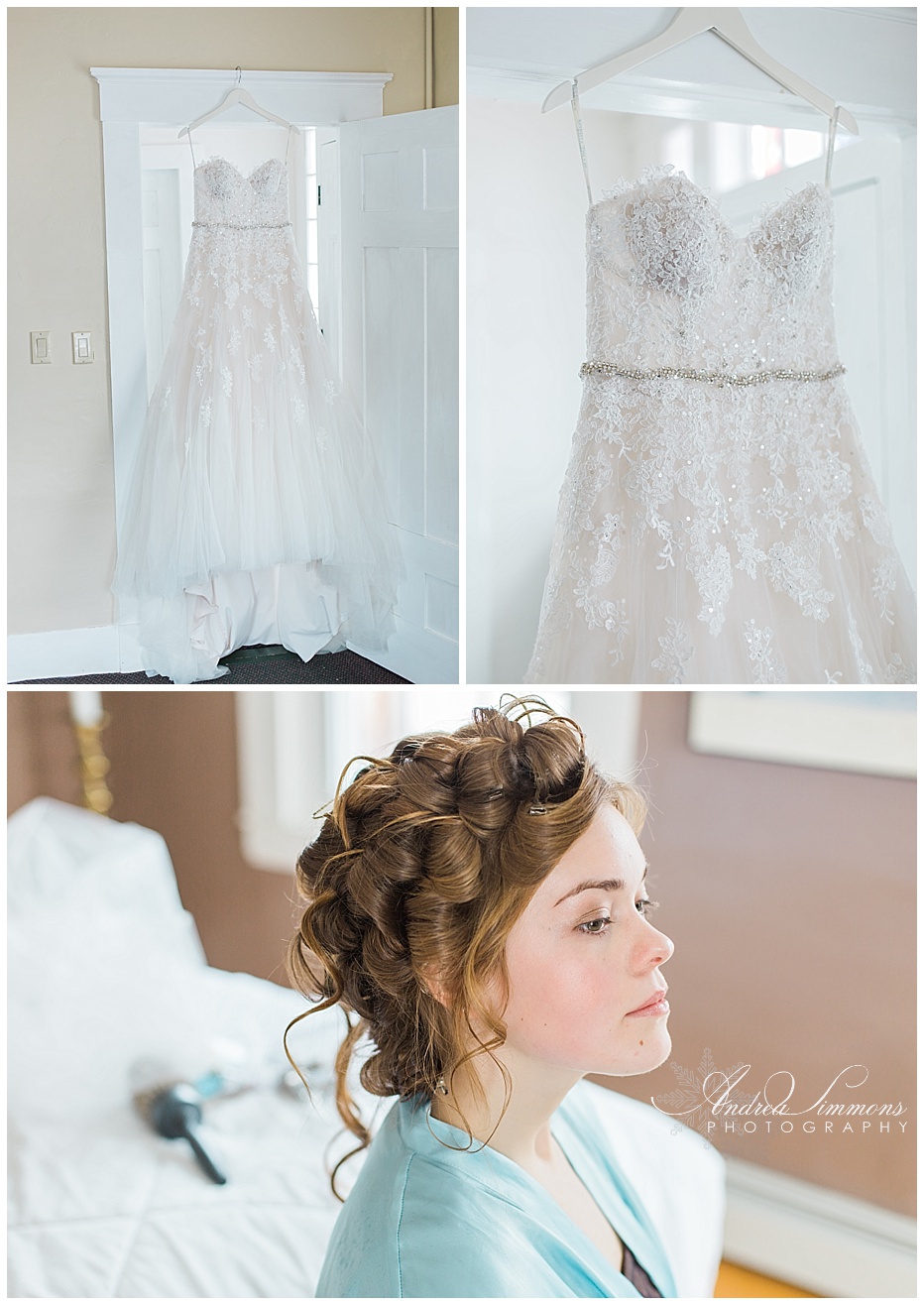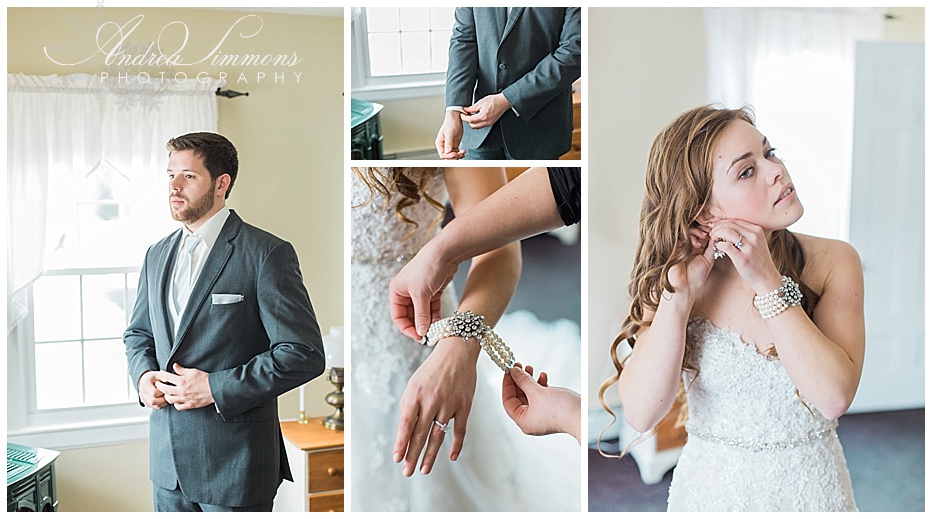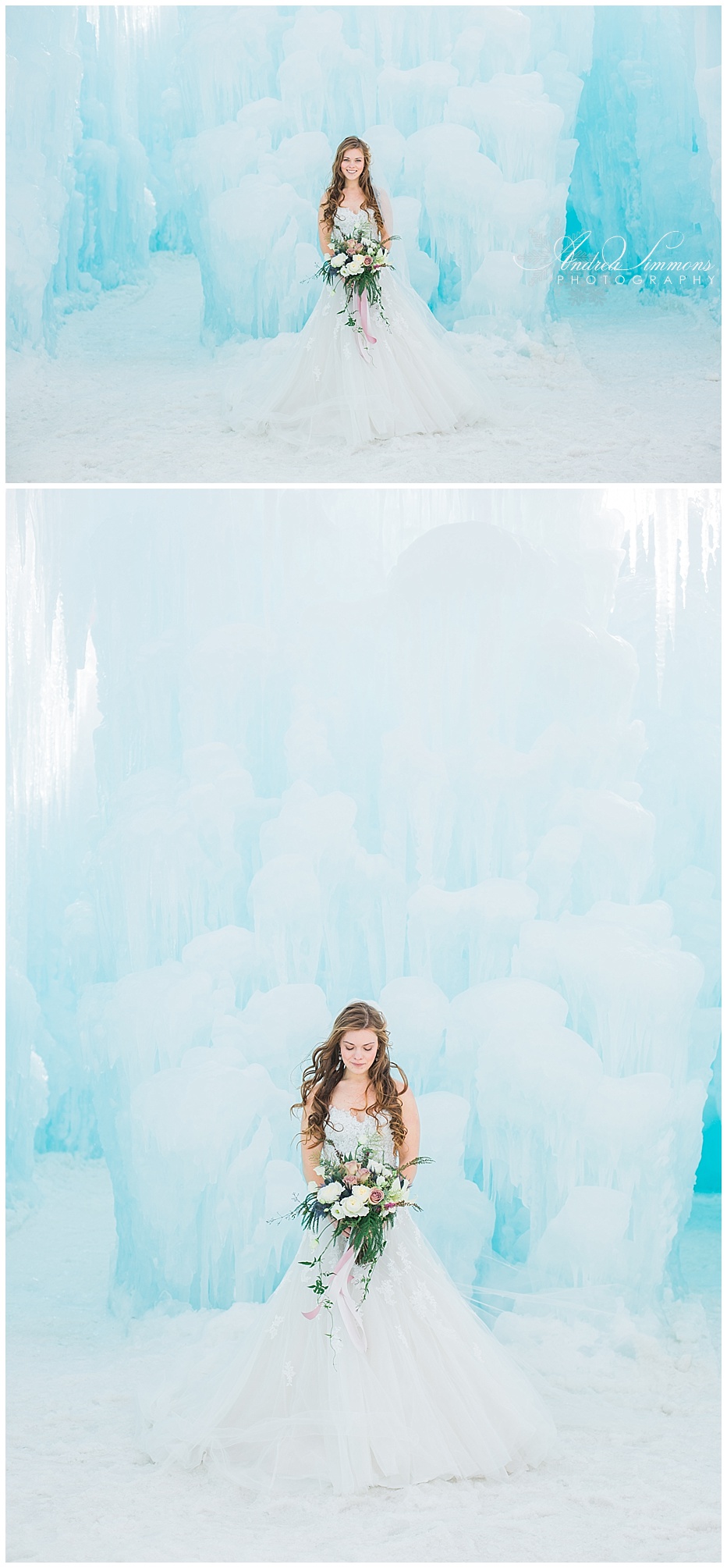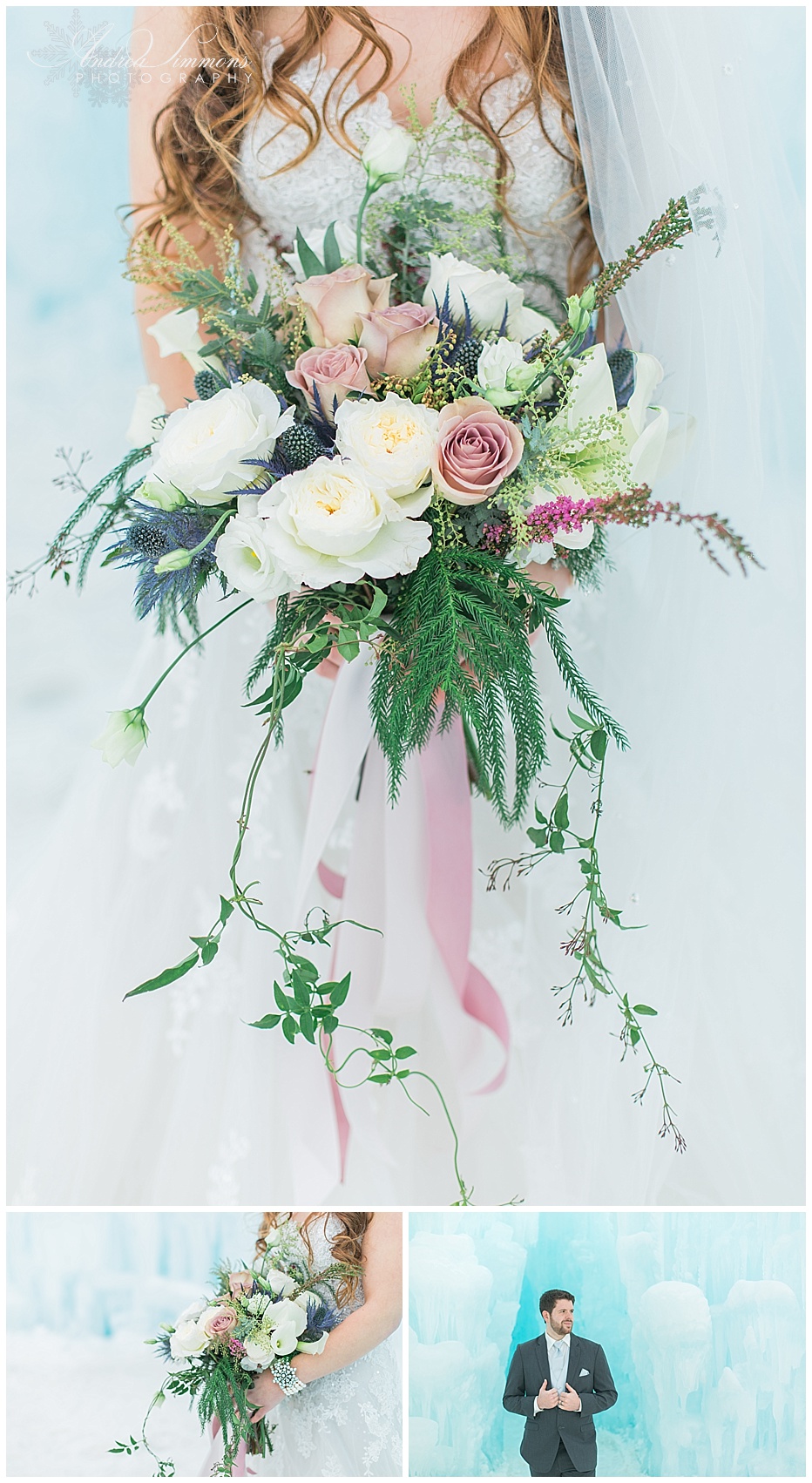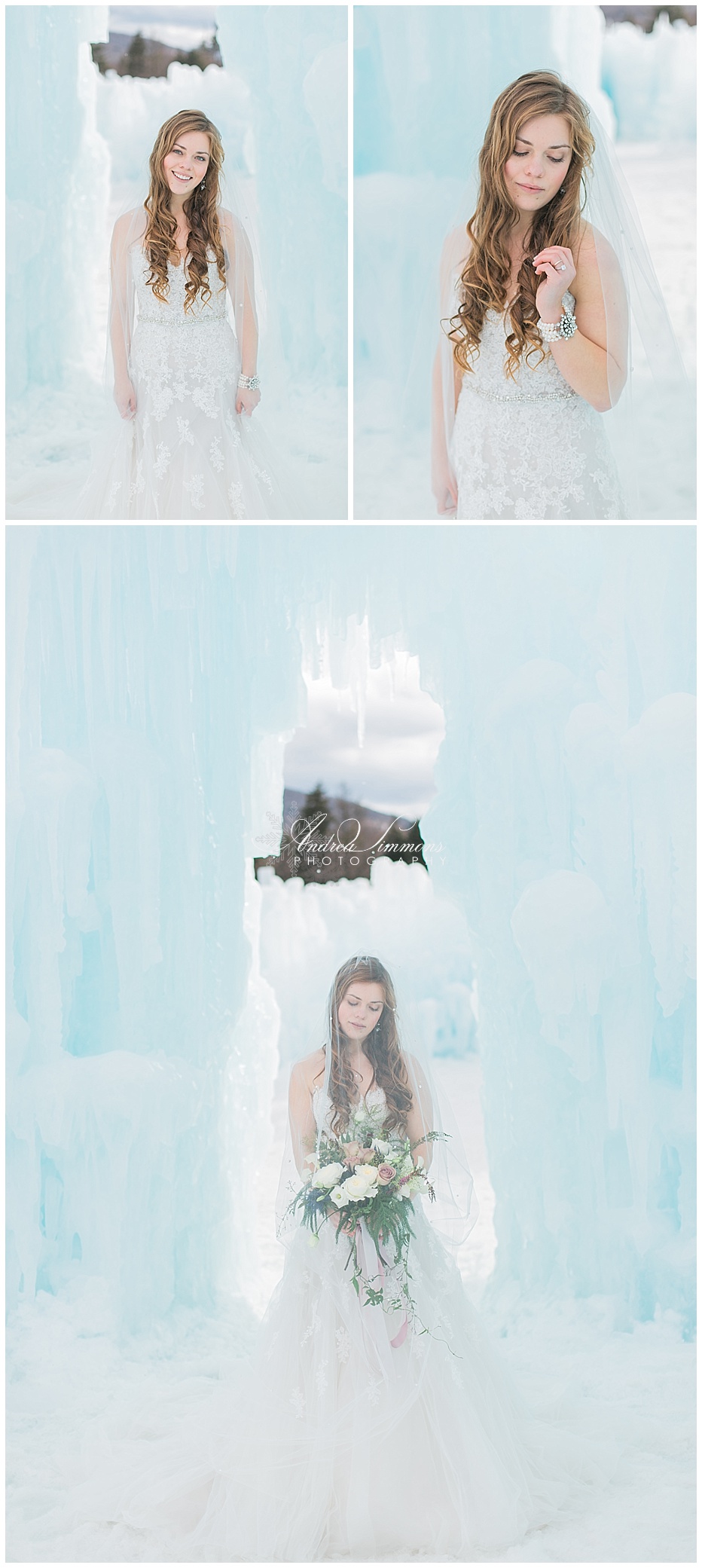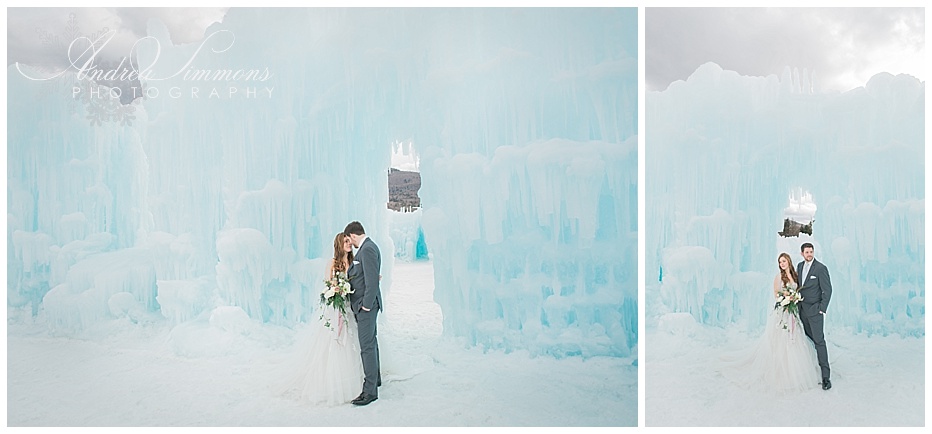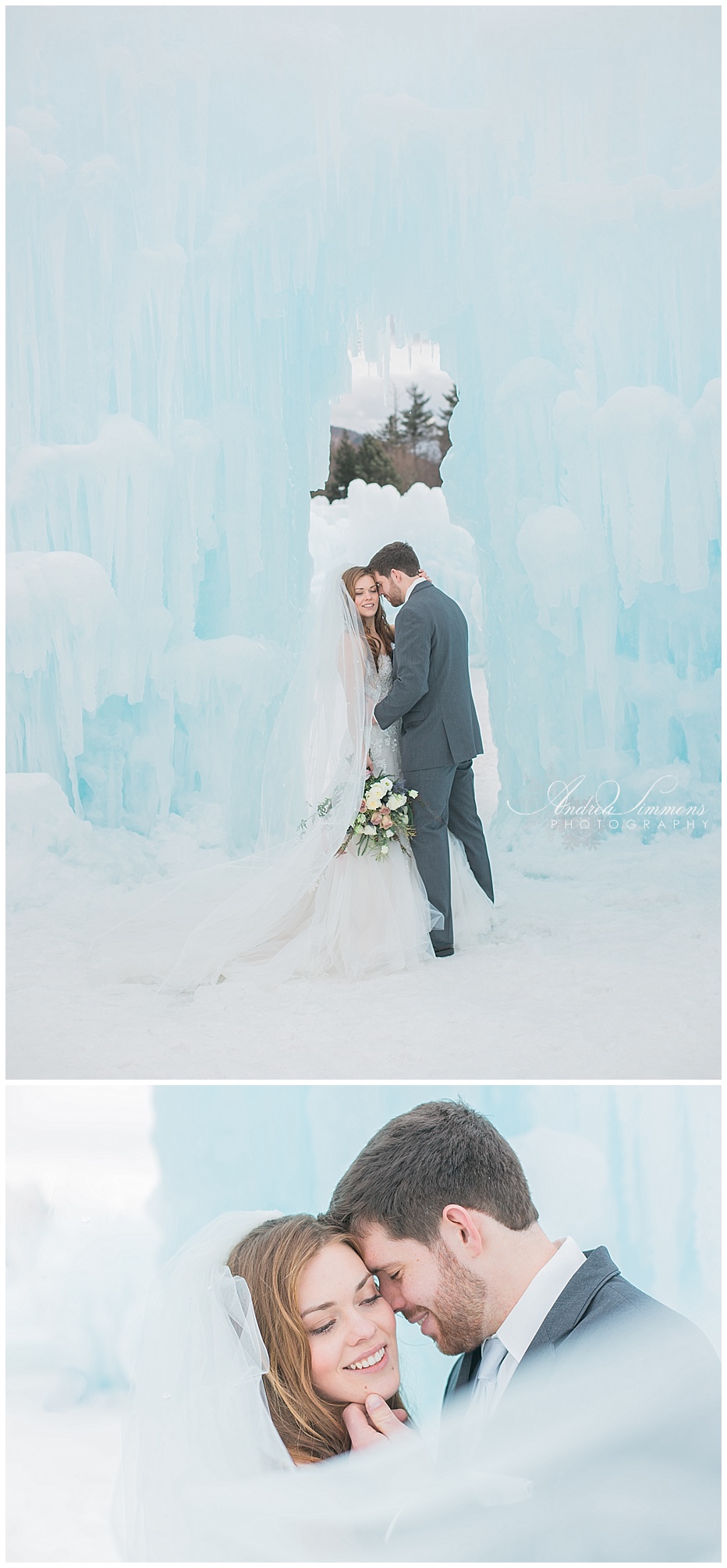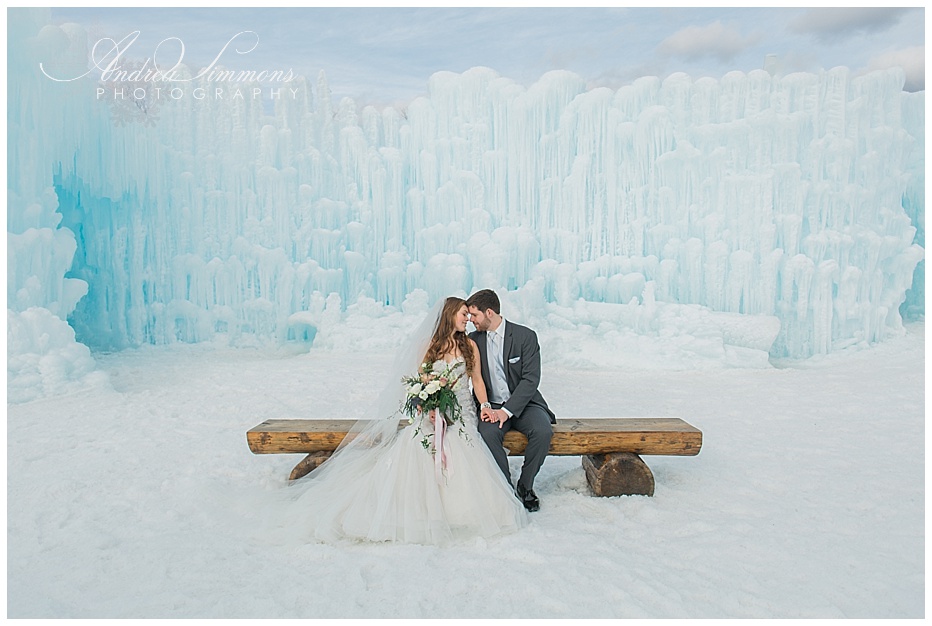 Thank you to all the vendors who helped make this day possible!
Dress, Veil, and Tuxedo: Dreams Bridal Boutique and Tuxedo Center, Augusta, ME  http://www.dreamsbridalme.com/
Flowers: Cherry Blossom Floral Design, Littleton, NH  http://www.cherryblossomfloral.com/
Hair and Makeup: The Crown Boutique, South Berwick, ME  http://thecrownboutique.com
Getting Ready Location: Sunny Grange Bed and Breakfast, Campton, NH  http://www.sunnygrange.com/
Photographer and Event Planning: Andrea of Andrea Simmons Photography  http://www.andreasimmonsphotography.com/
Second Shooter: Meghan of Perle Photography
Jewelry: Everistta, New York, NY  http://everistta.com/
Invitation Suite: Letter and Line Studio, Seattle, WA  http://letterandlinestudio.com/
Venue: Ice Castles, Lincoln, NH http://www.icecastles.com
Models: India Pickett and Andy Longfellow