Sarah and Praveen's Wayside Inn Wedding | Bethlehem, New Hampshire, Wedding Photographer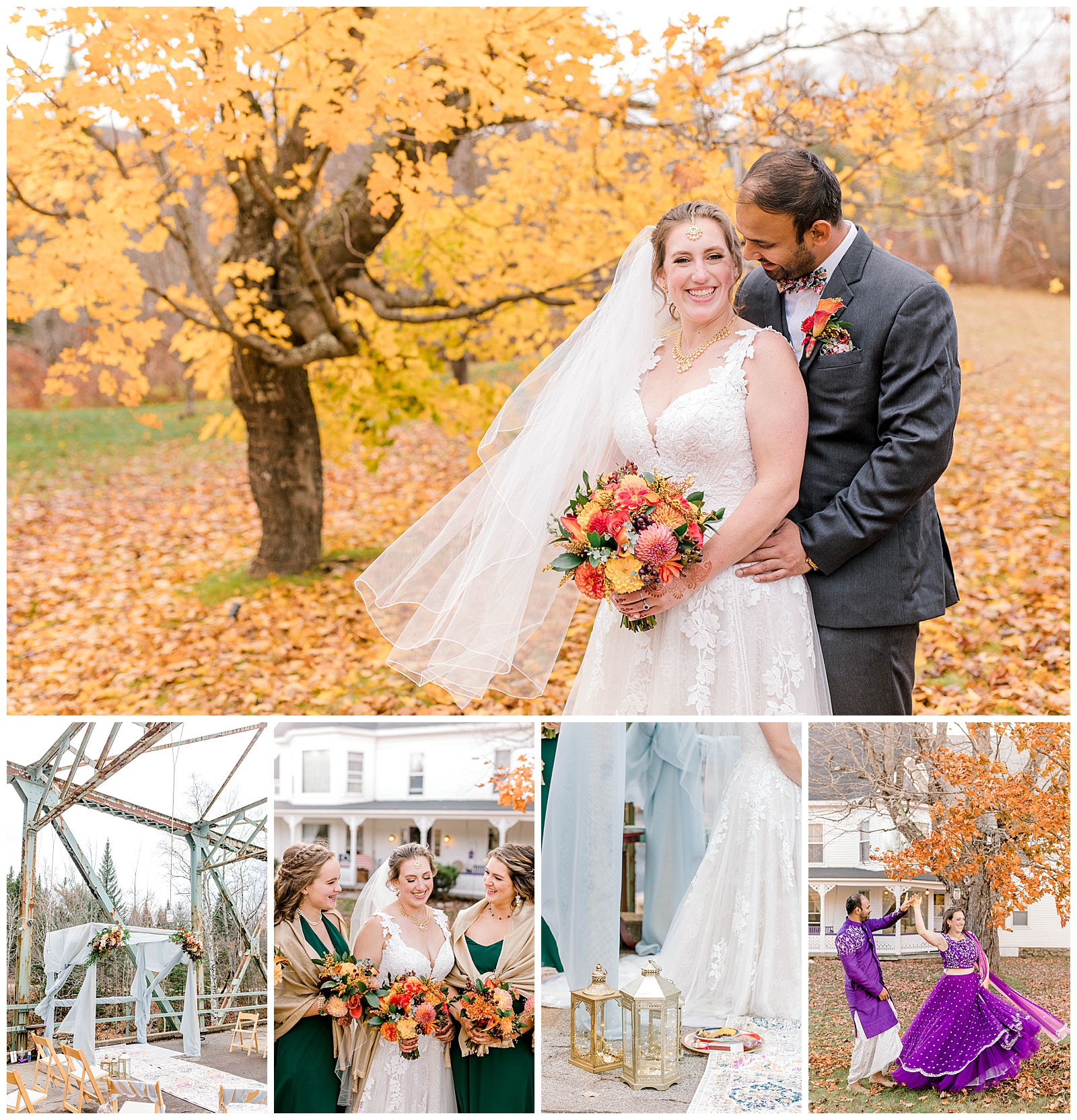 A 2-day Indian-American wedding at a gorgeous Bed + Breakfast, nestled in the heart of the white mountains!
Sarah and Praveen are two of the sweetest people I've ever met. They have the biggest hearts, and I truly grew to love them over the two weekends I spent in New Hampshire. They had invited me to stay at the Inn a few months ago with my family for the weekend. We drove over for the weekend, and I was able to meet this incredible couple, talk more about their wedding plans, and even take a few engagement photos on the property.
The Wayside Inn was originally built by the nephew of Franklin Pierce, 14th President of the United States. It started off as a four room homestead, and throughout the years, it was added upon. In 1910, it was turned into a hotel for railroad men, until the station was abandoned in 1922. Sarah grew up watching Gilmore Girls, a show about a young mother raising her daughter on her own, and fulfilling her lifelong dream of opening her own Bed & Breakfast. Sarah's dream became the same, and after working in the hotel industry for several years, and getting her degree in hotel management, she saw this Inn for sale. Her and Praveen had only been dating for about 6 months, but he came up to New Hampshire with her to look at it. 6 months later, Sarah was officially the owner and Innkeeper of her own (not-so-little) Bed & Breakfast at 26 years old! Praveen supported her every step of the way, and didn't even hesitate to join her in this incredible journey.
Sarah and Praveen were engaged 3 years later on the top of Mt Willard, the same mountain that was their first hike together several years before. Praveen had everything planned out beforehand, even sending her sister ahead of them with flowers and champagne to surprise her with afterwards.
Sarah and Praveen grew up in different countries, with different family traditions, languages, and religions. They wanted their wedding day to reflect all of this, to truly join two worlds into one beautiful union. They decided to throw a traditional Indian Sangeet party on Friday evening to honor Praveen's heritage. The word Sangeet translates to 'sung together' from Sanskrit. 'Gaun', another word used to describe the event, means 'songs' or 'to sing' in Hindi. Traditionally celebrated in the Punjab regions of India, this ceremony has been adopted by many other regions as a form of celebration for the wedding to come. Leading up to the event, Sarah and her bridesmaids spent hours having henna painted onto their hands and feet. Also know as Mehndi, henna is a paste associated with positive spirits and good luck. The wedding party, as well as family and friends, dressed up in Bollywood-inspired outfits that were incredibly colorful and fun! The tent was decorated with bright colors and lights, and everyone enjoyed a buffet of traditional Indian food (which was a bit too spicy for my mild taste buds, but equally delicious!).
Saturday morning came with lots of rain, which ended up clearing up just in time for the first look. Sarah and her bridesmaids got their hair and makeup done in the dining room, while the gentleman got ready in the lounge. They had their first look under a gorgeous Fall tree in the front yard of the Inn – the colors were just spectacular, and matched Sarah's bouquet perfectly! Sarah and Praveen dressed in traditional American wedding attire, but with some beautiful Indian jewelry and accessories. They were married on the Pierce Bridge, which sits right on the Inn's property, going over the river. The Pierce Bridge was originally part of the Teddy Roosevelt Trail, which rain from Maine to Oregon. It was a very important way for tourist to access the White Mountains. The steel bridge is currently a pedestrian-only bridge, and certainly a unique ceremony location! They had decorated the bridge with hanging jars, twinkle lights, and a beautifully decorated arbor. The arbor is also known as a chuppah in Jewish ceremonies, or a mandap in Hindu ceremonies. For this day, it represented all of these, with the four pillars representing Sarah and Praveen's parents. Praveen's Dad had passed away, so it was an especially strong reminder that he was there that day with them. During the ceremony, several different ceremonies and traditions were held; American, Hindu, Jewish, Christian, Indian – it was a perfect blend of them all! Parveen adorned Sarah with a beautiful necklace during the ceremony called the Magala Sutra. Sarah and Praveen exchanged floral garlands, a Hindu tradition known as the Jai Mala. The Jai Mala symbolizes the partners welcoming each other into their families. The vows were so personal and sweet, I don't think their was a dry eye there! The ceremony was live-streamed to online guests who couldn't make it to the wedding because of COVID. The Saptapadi is an important ritual in North Indian Hindu weddings. During the Saptapadi, the bride and groom have their garments tied together—typically the bride's veil and the groom's sash. They then make seven circles around a ceremonial fire, each round signifying a specific blessing they request of the gods. There were also several American traditions, including the exchange of wedding rings, and the unity sand. It was quite chilly as the sun set, and guests cheered from under blankets as Sarah and Praveen were pronounced husband and wife. As the ceremony came to an end, Praveen took part in the Jewish tradition of stepping on a glass inside a cloth bag to shatter it. The breaking of the glass demonstrates that marriage holds sorrow as well as joy and is a representation of the commitment to stand by one another even in hard times. During the cocktail hour, a Grihapravesa ceremony was done to welcome the bride into their home together. Once the reception began, everyone laughed during some great toasts, and spent the rest of the evening dancing and celebrating!
Thank you so much, Sarah and Praveen, for trusting me to photograph your special day! Congratulations Mr. and Mrs. Surapaneni!
Venue: The Wayside Inn, Bethlehem, New Hampshire
Florals: Mountain Roots Farm, Bethlehem, New Hampshire
Hair and Makeup Artist:
Bride's Dress:
Suits:
Brides shoes:
Rentals:
Henna: Henna Cafe, Boston, Massachusetts
Photographer: Andrea Simmons Photography LLC, Gardiner, Maine
Second Photographer: Laura Stevens Photography, Winthrop, Maine